Scale
Ingredients
Crust
2 cups almond meal/flour, packed
2 cloves garlic, minced to a paste
1 teaspoon dried thyme
1/2 teaspoon kosher salt
1 egg, beaten
Freshly cracked black pepper
2 tablespoons olive oil
2 tablespoons water
Filling
2 teaspoons olive oil
1/2 onion, chopped
3 cups fresh spinach (about 3 big handfuls), coarsely chopped
4 eggs
3/4 cup buttermilk (you may use regular milk, or any unsweetened milk you prefer)
1/2 teaspoon kosher salt
Fresh cracked pepper to taste
1/4 teaspoon red pepper flakes
1 cup frozen artichokes (about 1/2 bag), thawed and chopped
4 oz. goats cheese, crumbled (tip: throw the cheese in the freezer for about 15 minutes to make crumbling easier)
Instructions
For the crust:
Preheat oven to 400 degrees. Oil a 10-inch cast iron skillet or a 9-inch pie pan with olive oil. In a medium bowl, mix together the almond meal/flour, garlic, thyme, salt and some pepper. Make a 'well' in the center of the mixture and add the egg and oil and whisk it around a bit with a fork. When egg is well whisked, incorporate the rest the mixture until combined.
Press the dough into the skillet or pan and distribute along the bottom and up the sides (if using a cast iron pan, be sure to push it evenly up the sides, I find it's easiest to push out from the center-with fingers- to keep it even all around). Bake until the crust is lightly golden and firm to the touch about 20 minutes.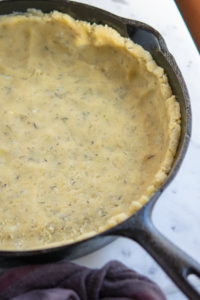 Now prepare the filling: 
In another large skillet, heat the olive oil over medium high heat add the chopped onion and sauté until translucent, about 5-6 minutes, add the handfuls of spinach (it will cook down, quite a bit). Cook, stirring frequently, until the spinach has wilted and there is little moisture left in the pan, about 3-4 minutes. Transfer to a plate or bowl to cool.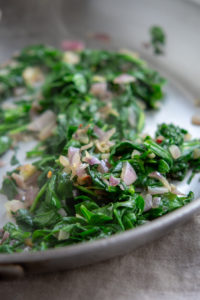 In a bowl, whisk together the eggs, milk, salt and pepper flakes. Stir into the slightly cooled spinach mixture, add the artichokes and goats cheese.
When the crust is done baking, turn the oven down to 375 degrees. Pour in the egg mixture. Return to the oven and bake until the center is firm to the touch and cooked through, about 30-35 minutes.
Let the quiche cool for about 10 minutes before slicing into it. Cut into 6 or 8 wedges with a sharp knife. Serve or store (once completely cooled) in the fridge for the week.
Leftovers will keep in the fridge for about 3-4 days. Serve it chilled, room temp or warmed in the oven.
Keywords: spinach artichoke quiche, cookie + kate, almond crust, gluten-free, vegetarian