counting down to ireland!
Oh my it's getting close to takeoff!
Some exciting news at SheCooks.Design. I am going back to school…culinary school that is! And to my luck, there is a perfect 3-month certificate program…in Ireland! Yep, I'll be spending a few months in Ireland at the Dublin Cookery School in a small seaside village south of Dublin called Blackrock. It's ticking all my boxes of living in Ireland and going back to culinary school. I've been contemplating and researching this venture for a long time, and finally decided to take the leap. The adventure begins early January through March, 2020.
Dublin Cookery School is a two-time recipient of the Best Cookery School in Ireland. It has an amazing program with a state-of-the-art cooking studio. The course is very extensive, all day every day, with a week working in a high-end restaurant kitchen in Dublin (Lord help me on that one!). Field-trips to cheesemakers, fisheries, a butcher shop and foraging for seaweed! Total immersion!
Why now?
Why am I doing this you might ask. Well, so many people have no idea how to put dinner on their table or know where their food comes from. That is what I want to change. My goal is to teach adults and kids how to cook. Another skill I'm exploring is recipe development, creating recipes for companies and restaurants. That is something I do (and love) every day for home and my website, and I'd like to continue doing this on my new career path.
What's my biggest worry. Rain in my boots. 🙂
Going back to school will give me the 'chutzpah' I need to get/keep moving on this new career journey. It will push me to learn new techniques, try different foods and other things I wouldn't probably do on my own (like butcher a lamb!?!). I've started talking to many people in town about doing all the above and getting the ball rolling on it. I am over the moon excited!
Here's the link to Dublin Cookery School, if you want to take a peek. 
I will continue to write in my website (and recipes when I can!) about my travels, the foods of Ireland and the glorious scenery. Follow along with me, I promise it will be worth your while.
This video on the quality of Irish food produced by Imen McDonnell. Imen is an award-winning writer (Farmette cookbook) and producer of all things (food and otherwise) beautiful. Small Green Fields, is a lovely snapshot of how I would like everyone to think about Ireland for its amazing abundance.
Sláinte, Shelagh
Some delicious recipes, and there's more!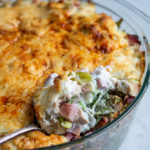 Green Noodle Casserole is a great recipe to use up those turkey leftovers. So easy to freeze it, and then pop it out and into the oven during the busy holiday season.
Pies are not my forté, that is for sure. But once I relaxed a little bit and realized it's just a pie, they became a little easier for me. So I guess pies are like life, just relax a little bit, it'll all be okay (and pumpkin is 'healthy' right?). Happy Thanksgiving, by the way!…
This Kale Pesto with Roasted Walnut Oil still has basil and some of the usual suspects of regular pesto, but it's the Roasted Walnut Oil that makes it so special.