Hi! I guess I took a little break from you all! Have you missed me? Well, I'm back! My hope is to get a few really delicious recipes posted for you this week to make up for my absence! My oldest daughter graduated from high-school, so I've been in an puddle of tears for a week (kidding, she's really excited about it, hard to be too sad yet!) Just wait until we drop her a college, which is exactly 1.4 miles away, then we can talk puddles.
Speaking of my oldest daughter, the first time I had this dish was the day we brought her home from the hospital. My sweetie of a sister Katie had dinner simmering, the house all cleaned and dog all spit-shined and waiting for our homecoming. One of those amazing meals you just won't ever forget. It may have been one of the only quiet meals we had (since my sissie was snuggling with the sweet baby girl while we ate) for the first six months of her life. So this is really Katie's recipe, and it's a keeper. That was 18 years ago and I still make it quite often, it's not too heavy, but very satisfying. Enjoy it, and let me know what you think.
Unfortunately I didn't use any local ingredients in this recipe, it's pretty much all from the pantry (have canned tomatoes, will cook!). But since the weather is so lovely this week, I didn't mind turning on the stove. Have a great meal!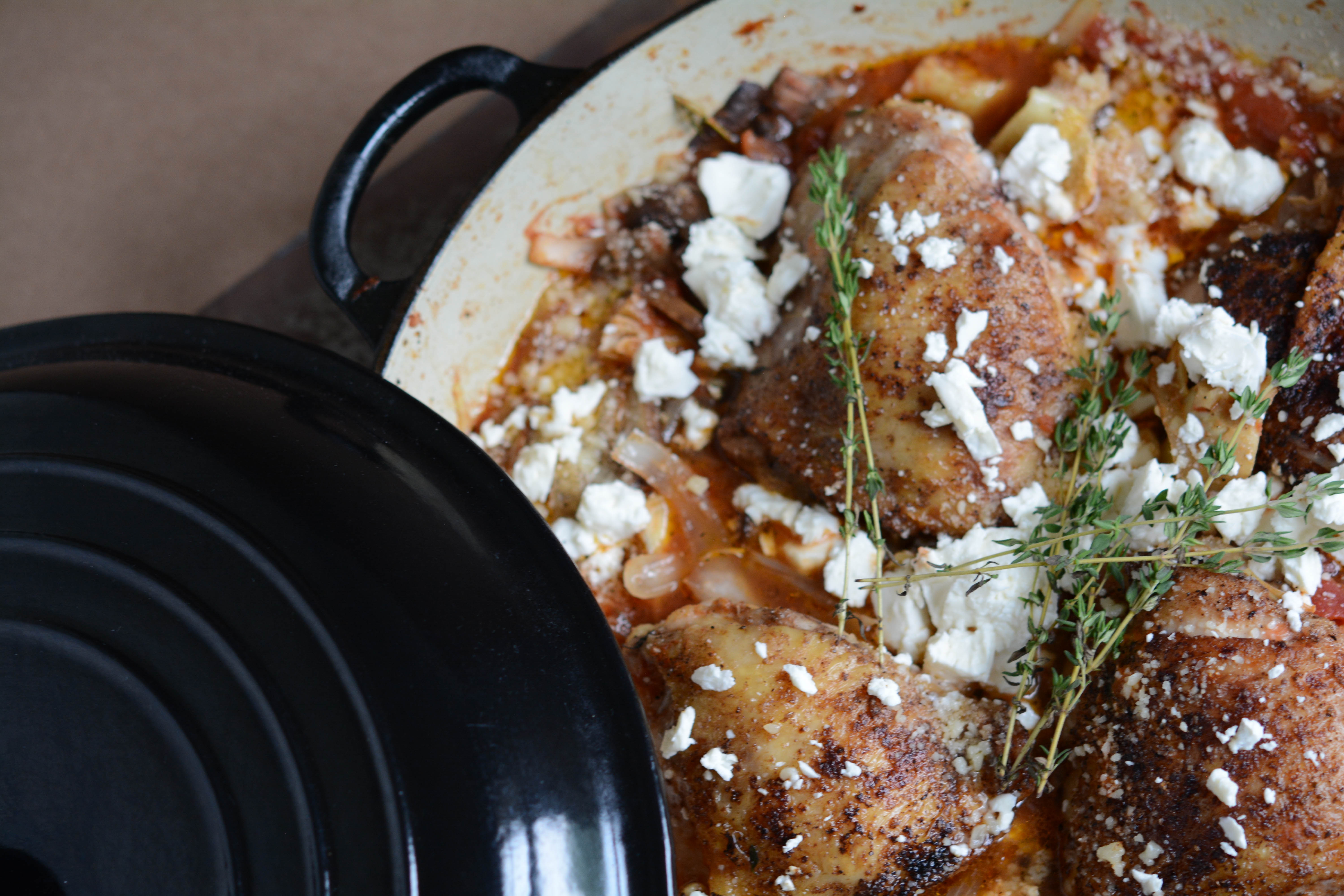 Artichoke Chicken
Makes 4 servings
4 bone-in, skin on chicken breasts (you can use boneless if you prefer)
2 teaspoons Beau Monde seasoning*
1 tablespoon olive oil
1 large onion, sliced
8 oz. sliced mushrooms
2 cloves minced garlic
1 14 oz. can whole tomatoes (preferrably fire roasted)
1 14 oz. can quartered artichokes, rinsed and drained
1 cup chicken stock or dry white wine
Salt and pepper to taste
2 teaspoons dried oregano
1/4 cup Parmesan cheese
1/2 cup Feta cheese, crumbled
Season chicken with Beau Monde* seasoning. Heat a dutch oven or large pan (you'll need a cover) to medium high. Add oil and brown chicken on both sides, about 4 minutes per side, no need to cook through, remove from pan to a plate and set aside. Add onions to the pan, sauté for a few minutes, add mushrooms and cook until browned, about 5 minutes, add garlic, artichokes and tomatoes and oregano, stir around a little. Nestle the chicken in the sauce, pour in any accumulated juices, cover with Parmesan and Feta and simmer for about half hour to 45 minutes. Serve with Lemon Rice.
Lemon Rice
Makes 4 servings
3 teaspoons olive oil
1 large diced shallot or small onion
1 1/4 cup heaping long-grain white rice (same procedure for brown rice, just follow cooking time from package)
2 cups chicken stock
1/4 cup fresh lemon juice
1/2 teaspoon salt
1 tablespoon lemon zest
Heat oil in heavy large saucepan over medium heat. Add shallots and sauté 3 minutes. Add rice stir 2 minutes. Stir in chicken stock, lemon juice, and salt; bring to boil. Reduce heat to lowest setting; cover and cook until liquid is absorbed and rice is tender, about 15-20 minutes (or package instructions). Mix in lemon zest. Season with salt and pepper and serve. You may want to serve this on the bottom of individual shallow bowls so it can soak up all the remarkable juices.
*Beau Monde can be hard to find, here's a great replacement recipe. Mix together and keep in an air-tight jar with your other spices.
2 tablespoons onion powder
2 tablespoons celery salt
1 tablespoon brown sugar