Real Men Don't Eat Quiche…so they say.
What a ridiculous book with the annoying (personal opinion) tagline of 'A Guidebook To All That is Truly Masculine'. Silly I know, but I guess it really did have an effect on men's consumption of the latest groovy trend of the '80s, quiche. With spring asparagus and leeks and hopefully fresh ricotta, this Asparagus Ricotta Quiche is protein-packed (and soooo delish) enough to challenge any macho-macho man.
Using almond flour for the crust makes it gluten-free but don't for one minute thinks it's not delicious. The nuttiness of the flour pairs perfectly with the leeks, asparagus and goat's cheese. It's a marriage made in heaven. I prefer it to the regular flour crust, and those 'real men' anyway :).
This nutty crust is also much easier to work with then a pâte brisée (fancy word for pie crust, pronounced paht bree-ZAY) and you don't need to roll it out. Just gather into a disk, and push it into the corners and up the sides of the tart pan. Get the kids involved, it's like Play-Doh, only it tastes good.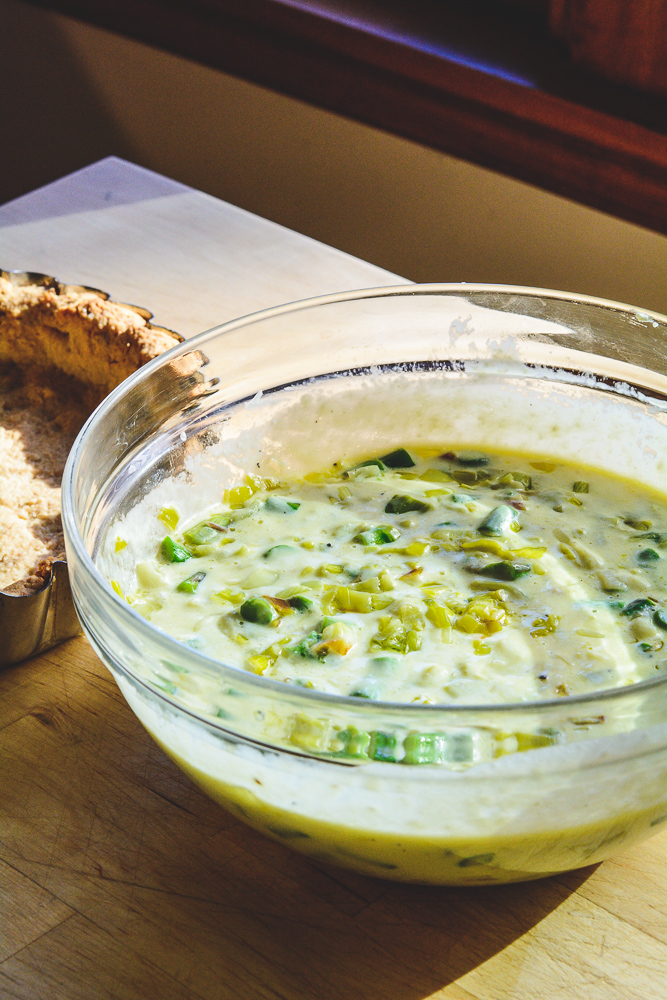 Take an extra thirty or so minutes to make up the Homemade Ricotta and you have a perfectly perfect quiche for Easter Sunday, Mother's Day or a special brunch date. If you don't have a fun quiche/tart pan, you can certainly use a 9-inch glass pie plate. But be sure to not over-fill, which would lead to a disastrous oven mess, even with a rimmed baking sheet (affiliate link) underneath, which you will definitely use, right!
This Asparagus Ricotta Quiche is
rich and indulgent, special occasion worthy
easy to make ahead of time
gluten-free, but all your guests will go wild for it
Print
---
Description
If any of your guests or family are gluten-intolerant be sure to use gluten-free oats and almond flour. Don't substitute regular flour, that's a whole different recipe.
You could make this into 2 smaller quiches if you only have smaller pans. Just be sure to not overload the filling.
---
Crust
1

–

1/2

cups

rolled oats (not quick cooking)

1

–

1/2

cups

almond flour

1 teaspoon

kosher salt (affiliate link) (use a

3/4 teaspoon

if using salted butter)

4

oz

. cold butter, cut into cubes

1

egg
Quiche
2 tablespoons

butter

1

large leek (white and light green parts only), thinly sliced and rinsed well (about

2 cups

)

1

bunch asparagus, tips reserved and stems chopped into

1/2

" pieces

1

–

1/2

cup

homemade ricotta (if purchasing, but sure to use whole milk)

5

eggs

4

oz

. herbed goat's cheese, crumbled

6

slices of thinly sliced prosciutto or speck ham work well too

1 teaspoon

Kosher salt (affiliate link)

1/2 teaspoon

fresh cracked black pepper
---
Instructions
Crust
You will need a 9-1/2" tart pan with high sides, or glass pie plate for this recipe.
Preheat oven to 350 degrees. Whiz the oats in a food processor (affiliate link) until finely ground, add the almond flour and salt and pulse 3 times. Now add in the butter and pulse until combined. Add the egg and whiz for about 5-10 seconds. It will form a ball but will still be quite wet yet moldable.
Remove the dough from the food processor (affiliate link) and form the dough into a disk. Place it in the quiche pan, and using your fingers or a flat bottomed measuring cup, press the dough into the bottom and up the sides of the pan. Try to keep it even throughout. 
Place in the oven and bake for 30-35 minutes, until the crust is golden brown, and the house smells like nutty heaven. Remove from the oven and let cool for a few minutes. The crust can be made a day ahead of time. Just let it cool, cover it well and store it on the counter. If you prefer to store in the refrigerator you may want to pop it in the over to 'refresh' before filling and baking. The fridge can make the crust soggy.
While the crust is baking, prepare the veg mixture. You are now technically multitasking!
Quiche
Preheat oven to 350 degrees. 
In a heavy bottomed pot, set over medium-high heat, melt the butter and add the leeks. Season with a pinch of kosher salt. Sauté for 10-15 minutes until the leeks are very soft and tender. Add the chopped asparagus stems and saute for another 5-7 minutes. Remove from heat and let cool for a few minutes (so you won't scramble the eggs!)
In a medium-size bowl, beat the eggs well, mix in the ricotta. Add the cooled veg mixture to the eggs and mix well. Add half of the goat's cheese. Season with remaining kosher salt and pepper.
Pour into the prepared tart pan. Arrange the asparagus tips on the top. Place folds of the prosciutto on the top, so it gets nice and crispy. Bake for 50-60 minutes, until the center, is almost set, and the top is golden brown. Dot the remainder of the goat's cheese on the freshly baked quiche. Let the quiche rest for about 15 minutes before serving.
---
Notes
You can certainly bake all the goat's cheese but I like the flavor of it uncooked. Adds a bit more zing!
All you need is a fresh green salad with a tart lemon vinaigrette to cut the richness, and you are set. So satisfying and delicious.