This ain't no ordinary grilled cheese sandwich. This is Anne's Cheese Toastie, it sort of puts the old humble grilled cheese to shame. 
Who's Anne? She my friend from County Galway, Ireland. Anne and her husband Larry make goat's cheese (Galway Cheese), so they know their cheese! I asked Anne if she wouldn't mind sharing her favorite recipe, and boy did she deliver. Her recipe used a few ingredients that are hard or impossible to get here, so I had to make some modifications, but I think Anne would be proud. Right Anne! :). You can read more about Anne on our GráBia Food Tour page, she's my partner in crime on this one!
For your cheese toastie you will need: 
Good bread, preferably sourdough, sliced thick
Irish butter
A combination of delicious cheeses, of the Irish variety if you can
Red Onion Chutney, and some raw onion (it helps cut the richness of this sandwich)
Ham, again, get the good stuff if you can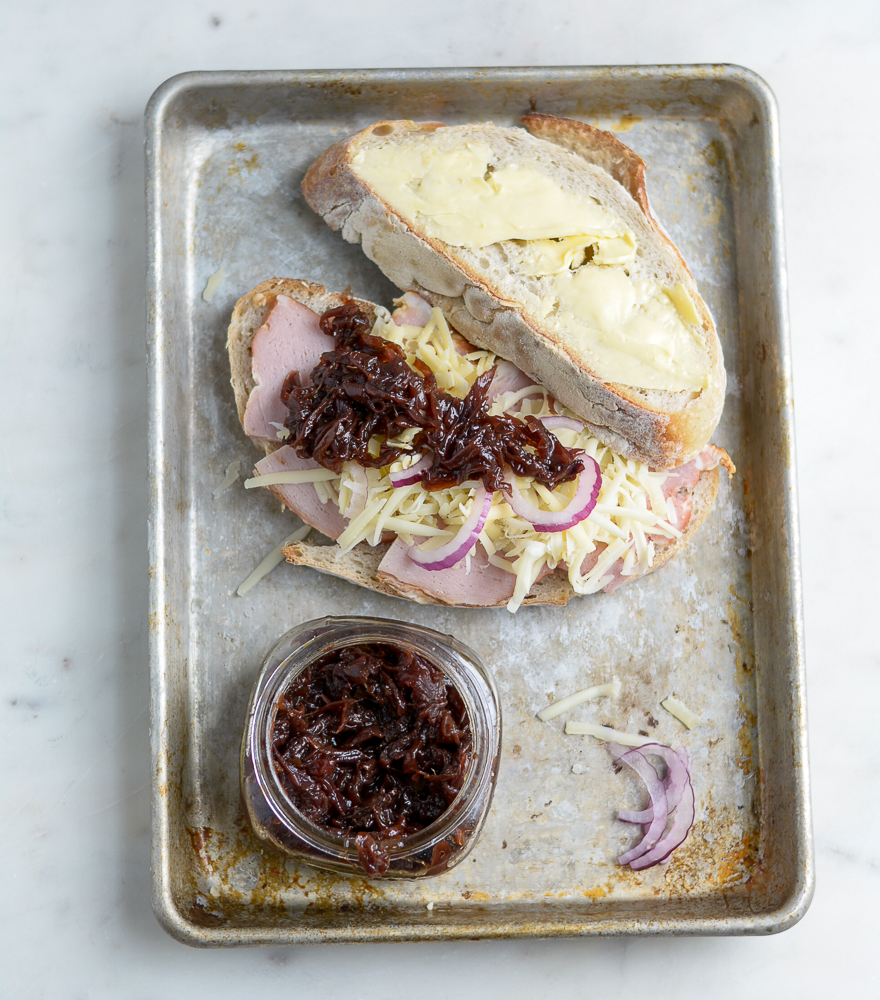 Can we talk cheese, please?
Anne recommends Galway Sinan, which is not available here, unfortunately. But I found an excellent Kerrygold 15-month cheddar, combined with the Hervés Mon or, better yet, Gruyere (this was my sister-in-law's suggestion, see below for more). It's the perfect combination. This is a special toastie, so get yourself some great cheese.
I know, I know, you want to go for Dubliner, which, yes, is one of my favorite Irish cheeses too. But Dubliner is not a good melting cheese; it's best saved for crackers on the charcuterie board.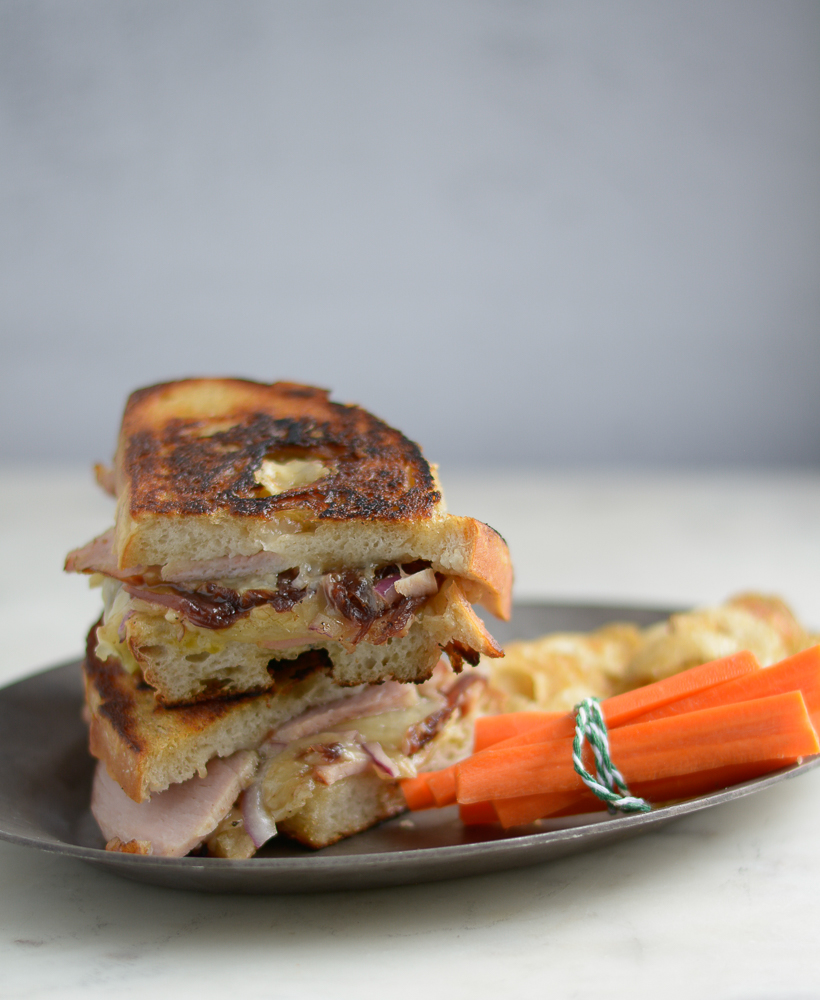 Be like Joanie
So, my darling sis-in-law actually won a contest for her grilled cheese. She admits it was just between a group of ten people, but still, she's an award winner in my book! Here are some of Joanie's suggestions as add-ons to these delish sammies.
A combo of Gruyere and Gouda are what won her the award
No Red Onion Chutney? Then caramelize some onions (French Three Onion Soup recipe for instructions for the onions), that's what Joanie did
Add some sauteed (and heavily browned) mushrooms, yum
Serve with your favorite homemade soup, like my Roasted  Tomato with Fresh Basil Soup (ok, I admit, I added this suggestion)
Thanks Anne & Joanie! xo
Print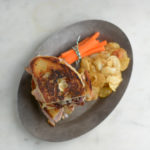 Anne's Cheese Toastie
Prep Time:

10

Cook Time:

10

Total Time:

20 minutes

Yield:

2

sandwiches

1

x

Category:

Dinner

Method:

Stovetop

Cuisine:

Irish
---
Description
Make these cheese toasties for someone you want to impress. It'll do the job! They really are great with a Guinness and some chips (or crisps as they say in Ireland) but beware, they are rich. Pairing with a side salad would be another nice side option.
---
4

thick slices of batch loaf bread (from a local baker or homemade)
Thick layer of Kerrygold butter (don't be shy with the butter)

4

slices (4 oz.) of honey-glazed baked ham (home cooked, not processed:)

4

slices (4 oz.) Galway Sinan, a Tomme-style* cow's milk cheese made in Galway. (I used a combination of Hervé Mons and Kerrygold 15-month Kilaree Cheddar, both available at WholeFoods, but a good cheddar and some Gruyere would be perfect)**

4

thin slices of red onion
A slathering of Ballymaloe Relish** (not easy to find in the states) or Homemade Red Onion Chutney
---
Instructions
These are Anne's instructions verbatim:)
Lash on butter on both sides of the bread, load up your fillings, and lay on toast maker for 5 minutes or until well toasted.
Serve with a tasty pint of Guinness and a side portion of Tayto Crisps (Irish potato chips).
Enjoy! and Slainte.
Shelagh's Notes:
Heat a large skillet over medium heat. Put the sandwich in the pan and cook for about 3 minutes on one side, pressing down lightly with a spatula every so often, or until the bread is golden brown. Carefully turn over, using your spatula and another flattish implement, such as a wooden spoon. Cook another 2 minutes or until crisp and golden.
Take care not to have the heat too high. You don't want to burn the toast before the cheese is melted. Feel free to cover the a pan to help melt the cheese
---
Notes
*Tomme-style refers to a small round of cheese. The particular tomme Anne speaks of is made by her husband Larry. I've had it, and it's spectacular!
**I find the cheese melts better if it's shredded, but you do you.
Keywords: Anne's Cheese Toastie, Irish Grilled Cheese, Grilled Cheese Sandwich, Galway Cheese