I've been doing it all wrong! Good ol' Julia (my idol) has completely transformed my French Three Onion Soup! I had a recipe I'd been making for years, until now. The onions never really got nice and soft or brown for that matter, and the flavor was fine, but now, holy cow! Terrific! Julia says to sauté the onions in two stages, slow, slow, slow for about 25 minutes, then heat it up a bit and get 'er browned up!
It's not so much about the recipe/ingredients, but the technique. The main work is slicing up the onions (use a food processor if you have a slicing blade), from there it's pop it in the pot and let 'er cook. Like I said, you need a little patience. Maybe I should have named it 'Be Patient Onion Soup'!
This weekend should be the perfect time to try this soup recipe. You can prepare most of it ahead of time (like many soup recipes, a day adds magic flavor!) And there are not a lot of ingredients, I bet you probably have everything you need in your pantry/fridge. I've tried to simplify Julia's recipe a bit, and lighten it up as well. If you don't have a shallot, or leek, go ahead and use all white or yellow onion. Really, it'll be just as good!
Some soup tips:
Use a heavy-bottomed, oven-proof pot
You can put the soup in individual bowls as well, just be sure they are okay for broiler
Take your time and enjoy yourself
Once the onions are sautéed (either stage, it's up to you), you can use them in this Three Onion Dip recipe. Same goes for that recipe, if you don't have three varieties of onions, no worries.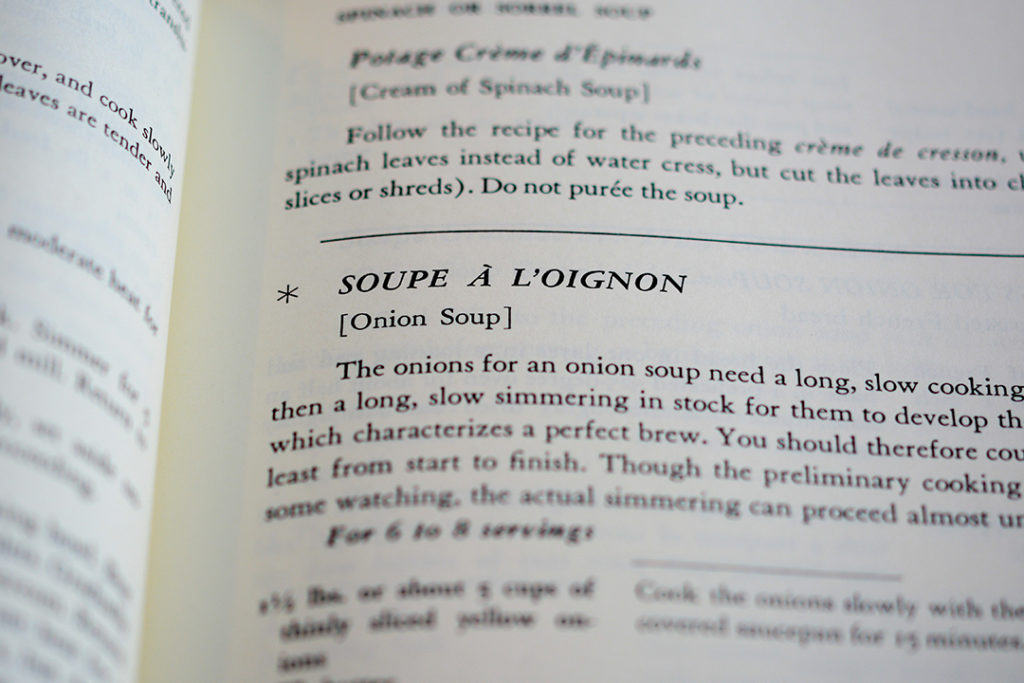 French Three Onion Soup
Author:

Shelagh

Yield:

6

+

1

x

Category:

Main Course, Soup
---
Description
Only have one variety of onion? Use whatever onions you have, just have it measure out to approx. 8 cups (trust me, they cook down to barely nothing but are loaded with mild flavor!) So no worries, it'll be great! Grab a glass of wine and enjoy yourself while making this soup. Taste how your patience will transform the lowly onion (I really don't mean that, I love onions!) to new heights (as they shrink).
---
For step one
3

lbs onions (large white, yellow and or red) (thinly sliced)

1

large shallot (thinly sliced)

1

large leek (well washed) (thinly sliced)

1 tablespoon

olive oil

2 tablespoons

butter
Pinch of salt
For step two
1 teaspoon

kosher salt (affiliate link)

1/2 teaspoon

sugar
For step three
2

tablespoons flour (whole wheat is fine)
For step four
1/2

cup white wine (what ever

one

makes you happy)

2

liters (or so) good beef stock (homemade if you have it*)

1

bay leaf

2 tablespoons

white wine vinegar (taste to see if needed*)
For step five
6

slices of good hearty bread (cut to 1″ thickness)

12 oz

. gruyere cheese (half of it sliced, half grated)

2

oz. grated parmesan cheese
---
Instructions
Step one
In a covered heavy bottomed pot, over medium high heat, cook the onions slowly in the butter and oil until softened, do not brown at this point. Stirring occasionally.
Step two
Uncover and turn the heat up to medium high, add the salt and sugar. Cook for 30 or so minutes stirring frequently until a deep golden brown.
If you fear the onions are going to burn, add a little water or stock (maybe 1-2 tablespoons) and scrape up and bits on the bottom of the pot with a wooden spoon. Those bits are flavor, flavor, flavor! See video >
Step three
When onions are nice and browned, sprinkle with the flour. Stir for about 2-3 minutes. This will cook out the raw flour taste, but will thicken a bit.
Step four
Add the wine, stir for a few minutes, then add the stock. Let simmer for another half hour. (Can be prepared ahead to this point. Check for seasoning and let cool, then refrigerate until you are ready to finish it off. Keeps for about 3 days in fridge)
When ready to serve, bring back to a low-simmer over medium-high heat. Taste to see if the vinegar is needed, ask yourself, does it need a little something? Some umph? Add if it does.
Step five
To make the toasts, heat oven to 325 degrees F.

Place bread on baking sheet. Toast

for 15 minutes in oven on each side (30 minutes total).


Check the soup for seasoning and add salt and pepper if needed.

Remove the bay leaf.


Add a few slices of the gruyere cheese directly onto the soup.

Place the toasted bread in a single layer on top of the soup.

Sprinkle the rest of the cheese in a thick layer on top of the bread making sure to cover the edges of the toast to prevent burning.


Place in a 350 degree oven for about 30 minutes.
Turn on broiler and brown cheese well.
---
Notes
*If using canned or box stock, doctor it up a bit. Pour it into another pan, add a bay leaf, some garlic, a teaspoon of peppercorns, onion. Let it simmer for a few hours, strain and add to the soup. Don't add extra salt, whatever in the canned version will condense down, and be way too salty.
Watch how to scrape up all the delicious bits!
French Three Onion Soup Video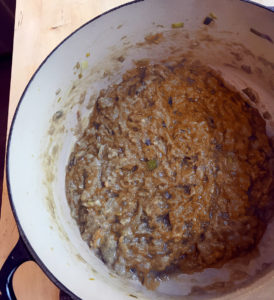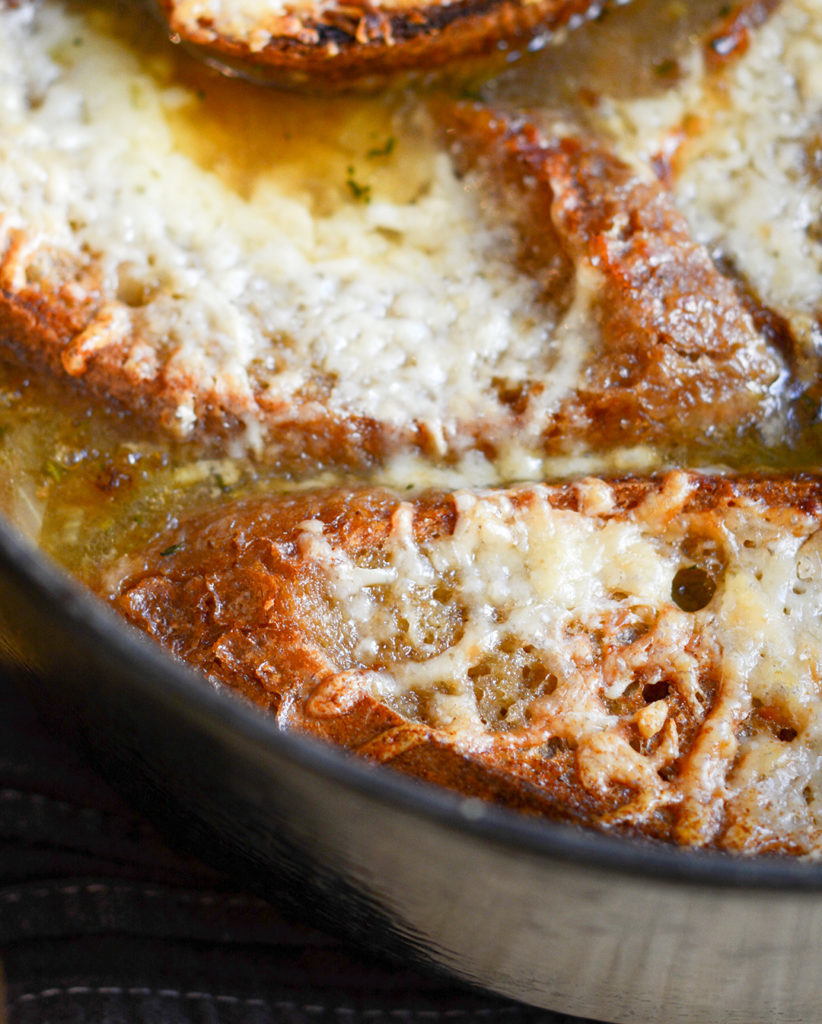 Enjoy!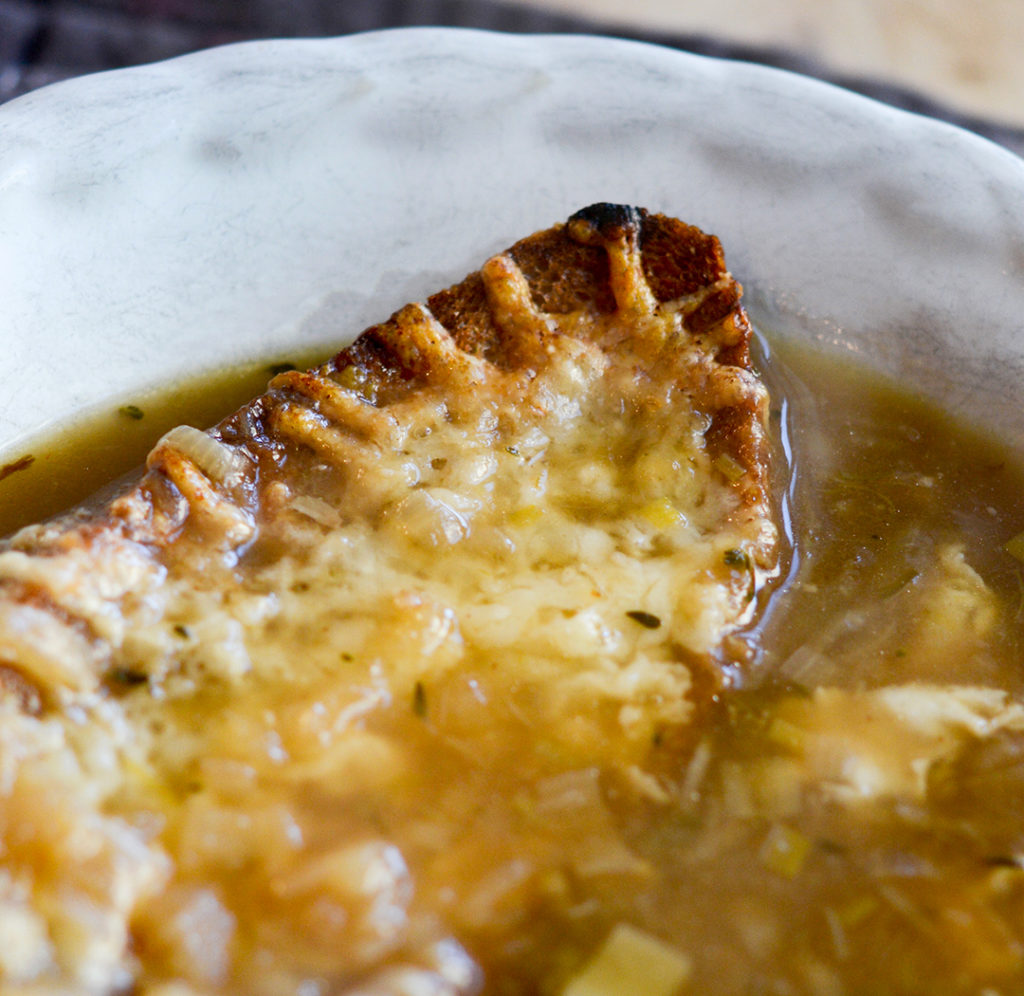 Sláinte
SaveSave
SaveSave
SaveSave
SaveSave
SaveSave
SaveSave
SaveSave
SaveSave
SaveSave
SaveSave
SaveSave
SaveSave
SaveSave