The Celtic New Year
Happy Halloween, All Hallows Eve, and All Saints Day! Look familiar? Well, this is not my first Irish Barmbrack recipe to share. My first recipe was more of a cake (see Irish Tea Brack), I wanted to try one that was more bread-like and used yeast. These traditional Irish breads are heavy with tea-soaked dry fruit and a bit of spice and are usually served on and around Halloween. So wonderful toasted for breakfast or a mid-afternoon tea break. Either is delish!
I'm not sure which is more traditional (cake or bread) from way back when the Celts started Halloween. But here's my story interpretation. The Gaelic (Irish) name is Báirín Breac which means Speckled (with fruit) Bread. Tradition has it that if your slice (or chunk) contained a ring, you'd be married within the year; if it had a rag, you'd be destined for poverty (or the nunnery!); a pea, you'd remain single; a stick meant you'd be doomed into a terrible marriage, and a coin meant you will come into wealth. 
These superstitions all tie into the most common time of year to find and/or bake this bread, Halloween.
Let me just say one thing
This is my version of Barmbrack, like any 'traditional' recipe, there are as many varieties as there are households. 
A Brief History of Halloween
The origin of Halloween dates back to the ancient Celtic festival of Samhain (pronounced sow-in) about 2000 years ago. Samhain was celebrated by the ancient Celts in the belief that the souls of their ancestors returned to earth on this night causing general mischief and damaging crops. The druids, who were the Celtic priests, channeled these spirits to determine the future — fortune-telling if you will. Bonfires were built and animals were sacrificed to placate the spirits and to ensure safe passage through the winter period. To a point, it was both a celebration of the harvest and the casting of spells to ward off evil for the cold months ahead.
I found the above excerpt on the Bigger, Bolder Baking blog. I can take zero credit for any research on this, let's just go with it, shall we. It's fun.
"Halloween is thought to have its origins in the pre-Christian Celtic festival of Samhain, celebrated on November 1, when the spirits of those who had died during the previous year were allowed to pass on to the next world. Bonfires were lit, and gifts of food and drink provided so that the wandering spirits did not go hungry. Later, Samhain evolved into the Christian commemoration of the dead on All Saints' and All Souls' Day, preceded by the vigil of Halloween - a night of feasting and devilment. The celebration came at the end of a period of hard work for farmers, as the jobs of bringing cattle indoors, digging the last of the potatoes and stacking the oats were all to be completed by Halloween."
Nonetheless, this Barmbrack bread is delish, and for a yeast bread, very forgiving to make (and eat!) I bet you already  have everything in your pantry.
flour
yeast (although keep your yeast in the fridge)
egg
honey
and some dried fruit
If you don't have a stand mixer, by all means, just knead by hand. If you want a demonstration on kneading, take a look here for some tips. Go to about 2:22 of the 'How to make pizza dough' video, this is my method of kneading.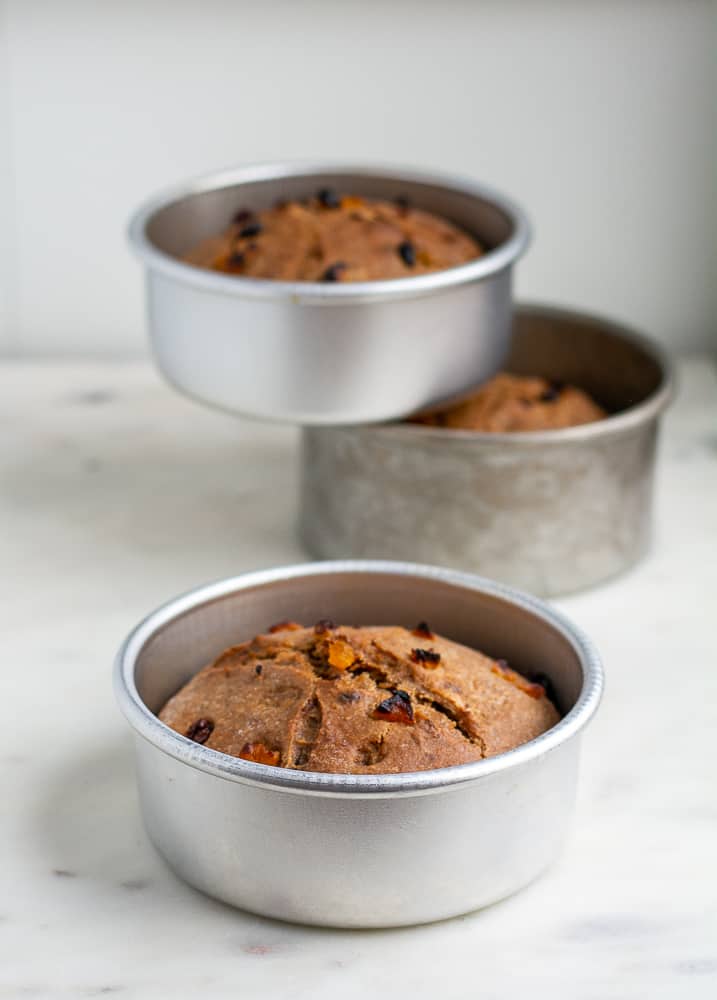 Print
Barmbrack Bread
Author:

Shelagh

Prep Time:

20 + soaking time

Cook Time:

35-40 minutes

Total Time:

3 hours, mostly hands-off time

Yield:

12

+

1

x

Category:

Snack

Method:

Baking

Cuisine:

Irish
---
Description
Speckled with fruit, this rich bread is delicious when toasted, and slathered in butter. Enjoy!
---
Wet Ingredients
1/2

cup

(75g) raisins (or dried cranberries)

1/2

cup

(75g) golden raisins (also called sultanas)

1/4

cup

(38g) pitted dates, chopped

1/4

cup

(38g) dried apricots, chopped

1/4

cup

(38g) crystallized ginger, chopped (and optional)

1 1/2

cups

freshly made strong black tea (use two bags)

1/2

cup

(170g) honey

2 teaspoons

vanilla extract

1

egg
Dry Ingredients
6

cups

(678g) white whole wheat flour (or half white flour half whole wheat)

1/2

cup

(40g) wheat bran

2 teaspoons

yeast

1 teaspoon

kosher salt (affiliate link)

1 teaspoon

cinnamon (or pie spice)
---
Instructions
In a heat-proof bowl or glass measuring cup, steep the dried fruit* in the hot tea for at least 1-hour or overnight. After soaking, add honey, vanilla, and egg.
In the bowl of a stand mixer, fitted with the dough hook, add all the dry ingredients. Add the dried fruit and tea mixture to the bowl with the flour mixture. Knead on medium-low speed for about 7-8 minutes. It will be a somewhat sticky dough. Turn out onto a board lightly dusted with flour, knead by hand for a few minutes until the dough feels smooth. Place dough in a greased bowl and cover with a tea towel. Let rise for about 2 hours (until doubled in size) in a warm place**.
Preheat oven to 375°. Turn dough onto a lightly floured board and divide into 2-3 equal loaves

—place

in three 6″ (or two 9″) buttered round pans. Let rise again, about 1 hour, again in a warm place. 
Place in preheated oven for about 35 minutes, until bread is golden and hollow sounding when tapped. Turn onto a wire rack to cool completely before digging in!
---
---
Notes
*any combination of dried fruit will work here.
**I find an oven with the light turned on is a nice cozy, draft-free place for the bread to rise. Be sure to take the dough out before preheating though (been there, it's not a pretty scene)!
---
Nutrition
Serving Size:

Makes 3 small round loaves or 2 larger loaves
Keywords: barmbrack yeast recipe, Irish Halloween Bread, Báirín Breac, Easy fruit bread, Traditional Irish Bread, Celtic New Year