Little known fact, I'm obsessed with Ireland. Okay, well-known fact! And I'm trying to change many people's (usually nose-up) perceptions of Irish food. This glorious country has an abundance of Atlantic fish and seafood, lamb, cheese, and butter to die for. And their standards are very high when it comes to quality. This week, I'm going to be sharing quite a few Irish recipes that I've made my own. Using local ingredients as much as possible, and an Irish twist. The first recipe of the week is Irish Tea Brack. My dear friend Síle O'Murphy, who lives in Ireland, sent a Tea Brack recipe to me last week and asked me to modify it a bit. I think my version is pretty darn good, if I do say so myself. Thanks for the inspiration Síle!
Speaking of Síle, she has also written a wonderful book, based in Ireland. It's called Searching for Sheila. I just so happened to design the cover for her, and it was published last year. Take a look and get in the holiday spirit! You can find her book here, Searching for Sheila. I think the girls in the book eat some Tea Brack too, page 223. 🙂
Tea Brack is a sweet cake (or bread?) often served with tea (or coffee), but it's also made with tea. Tea soaked dried fruit and a little honey are the only sweeteners in this recipe. It almost has the resemblance of a fruitcake, but let's not go there, because it's far from a traditional fruitcake. In the old days, it was served on Halloween, and it was your lucky day if you found the penny baked into the cake. Try it as a not-too-sweet afternoon snack, and since my version is made with white whole wheat flour, you can eat it guilt free.
Print
Irish Tea Brack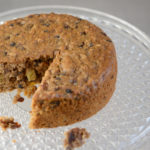 Is it a cake? Or is it a bread. Any way you eat it, it's delish! Enjoy this delectable treat with your afternoon tea or coffee.
Ingredients
Wet Ingredients
1/2 cup

raisins (or dried cranberries)

1/2 cup

golden raisins

1/2 cup

currants

1/4 cup

pitted dry dates (chopped)

1/4 cup

dried apricots (chopped)

1/4 cup

crystallized ginger (chopped and optional)

1

1/2 cups hot black tea (use

two

bags) (try Barry's, or any black tea)

2 teaspoons

vanilla extract

1/2

cup honey (use a good local honey)

1

egg
Dry Ingredients
1

1/2 cups white whole wheat flour (such as Great River Milling)

1/2 cup

oats

1 tablespoon

baking powder

1/2 teaspoon

kosher salt (affiliate link)

2 teaspoons

pie spice (I like Penzey's)
Instructions
In a heat-proof bowl, steep the dried fruit in the hot tea anywhere from 1-hour to overnight (really, it'll be okay). After soaking, add vanilla and egg.
Preheat oven to 325 degrees.
Generously butter either two 6-inch cake pans, one 8-inch cake pan or 2 loaf pans.
In a large bowl, whisk together dry ingredients, then combine with fruit mixture. Mix till thoroughly combined (don't over mix). Scrape down the sides and bottom of the bowl. Pour the batter evenly into the tins, place in oven for 45-55 minutes, depending on which pans you use. You'll know it's done when a cake tester inserted in the center comes out moist, but without clinging crumbs.
Can you get any easier?
Notes
Drizzle with some caramel sauce, for a perfect dessert.
Here are a few options you can add to your cake:
Irish Whiskey (Two Gingers would be terrific!)
Crystallized ginger, be sure to get the small bits, or chop them up
Any dried fruit will work in this recipe, use your favorite
Keep in mind, if you use anything other than black tea, it's not traditional. Irish on Grand in St. Paul, has a lovely Irish Breakfast tea called Barry's. But any black tea will do. Another tip, use 2 bags.
I really hope you try this cake, it's now a staple in my recipe repertoire!
In my next post, we'll discuss how the Irish don't eat Corned Beef, nope they don't. I'll tell you how that tale started. Stay tuned!
Sláinte
SaveSave
SaveSave
SaveSave
SaveSave
SaveSave
SaveSave