Dukkah (duck-ah) is a savory blend of nuts, seeds, along with warm and toasty spices. It adds crunch and zing to soups, salads, and hummus. Dip some crusty bread in good olive oil, then in some dukkah, wow, heaven.
Dukkah originates from Egypt with Mediterranean roots. Toasting the nuts and seeds, brings out all the best flavor in them. Honestly, toast all your seeds and nuts, always, not only for Dukkah! An easy, healthy game changer.
What you need to make dukkah:
Just like any old, traditional recipe (from any culture) their are grannies who say there way it best. Well, phooey to that, this is how I like my dukkah, and I bet you will too. Here's what you need:
Almonds
Hazelnuts
Pistachios
Sesame Seeds
Fennel Seeds
Ground Cumin
Ground Coriander
I love to make dukkah with a mortar and pestle, a new 'gadget' in my kitchen, what did I do without one? If you don't have one, a small food processor will work fine too. You want to retain some crunch, so don't over-process it.
Play around with it your dukkah, customize it to your tastes.. If you don't like fennel, add in some sumac or cinnamon. It's so delish and makes a great healthy topping.
I love midwest grown hazelnuts from American Hazelnut Co.! Who knew we could grow them in Minnesota and Wisconsin. And who knew how good they are for our soil, it's called regenerative agriculture. American Hazelnut grow and produce the nuts, and they also make amazing Roasted Hazelnut Oil that has a high smoke point, but also is great in baked goods and as a salad dressing. As well as Hazelnut flour (think almond flour). I'm still experimenting with the flour. Somebody's gotta save our planet, and American Hazelnut Co. is sure doing their part!
ALWAYS TOAST YOUR NUTS! LOL.
You can read about regenerative agriculture in this NYTimes article. It's a farming method that produces winter hardy plants. Perennials that grow deep in the soil, and are as eco-friendly as any crop out there. It's facinating, and we all should get a good grasp on the practice and encourage more of it.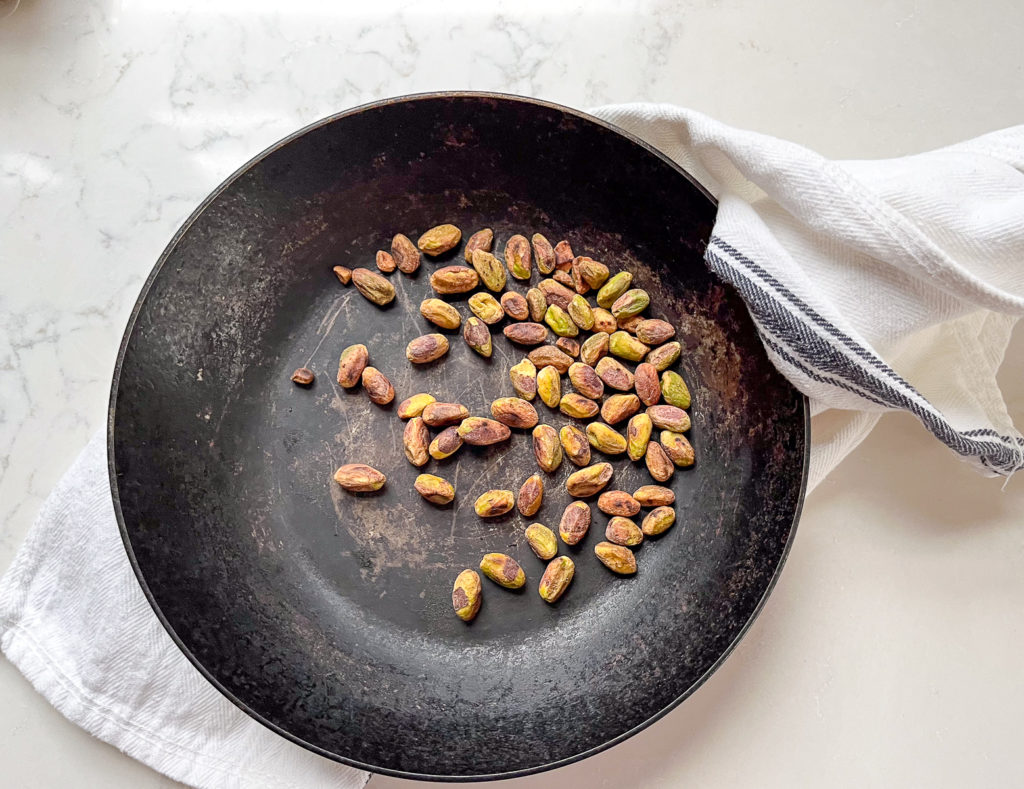 Print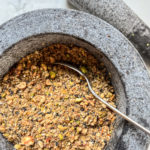 ---
Description
This savory nut and spice blend is a great topping for soups, salads, even bread and good olive oil. You'll want to keep some on hand at all times!
---
1/4

cup

almonds, toasted

1/4

cup

hazelnuts*, toasted (I love American Hazelnut Co. brand)

1/4

cup

pistachios, toasted

3 tablespoons

sesame seeds (combo of white and black if you have them both!), toasted

1 teaspoon

ground coriander

1 teaspoon

ground cumin

1/2 teaspoon

crushed red pepper flakes

1/8 teaspoon

whole fennel seed

1/2 teaspoon

freshly cracked black pepper, (about

25

turns of the mill)

1 teaspoon

kosher salt (affiliate link)
---
Instructions
In a dry, medium-size skillet over medium heat, add the almonds and toast for about 7 minutes, tossing them around so they don't burn. Add the hazelnuts, and pistachios, and toast for another 4-5 minutes. You should be able to smell the nuttiness, and they will start to pop. Add the sesame seeds to the pan and turn off the stove. This is enough time to bring out their nutty flavor. Leave in the pan to cool down a bit.
Transfer the nut and seed mixture to a food processor (affiliate link), or you can do it in stages in a mortar and pestle. Pulse until the nuts are broken up and coarse in texture, almost like rough sand. Add the spices, salt, and pepper, and give it 1-2 more pulses to combine.
Place the dukkah in an air-tight container and store for 2-3 weeks.
NOTE: You can also toast the nuts and seeds in the oven. I love to use my toaster oven because the timer goes off! Less likely to burn. It's worth the extra step to toast. It makes a world of difference.
---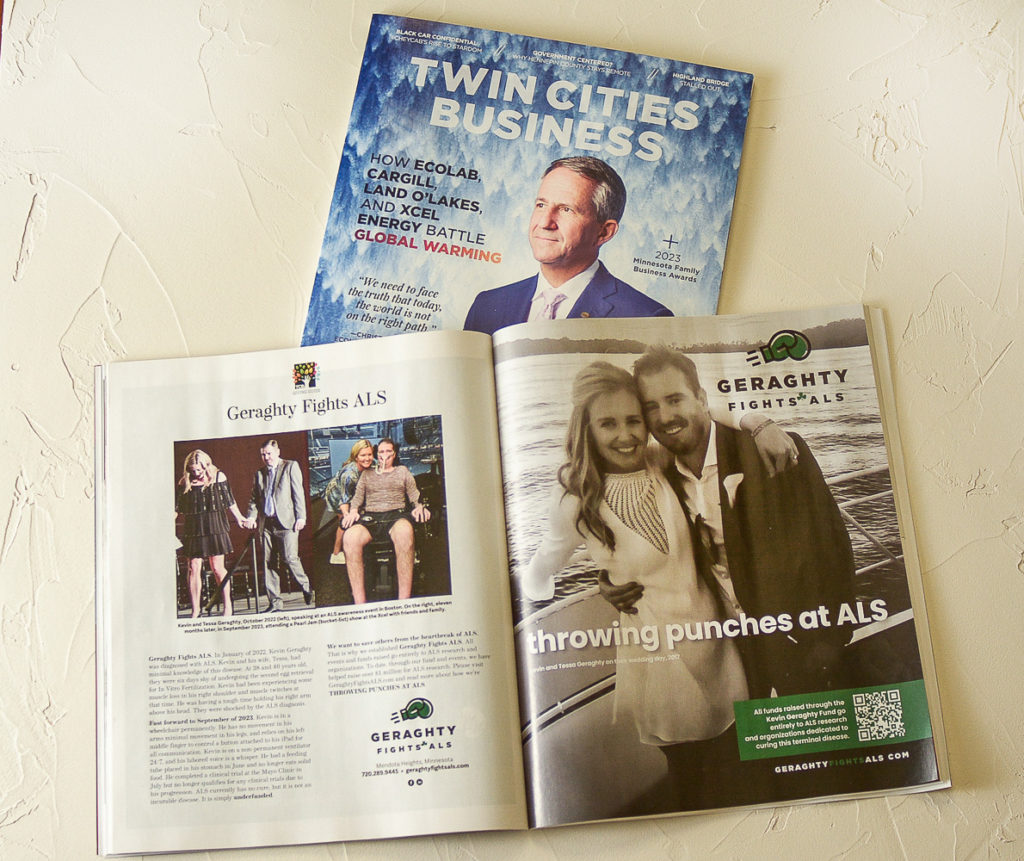 As many of you know, my nephew Kevin is fighting ALS, and boy is he fighting. Throwing punches daily. Twin Cities Business magazine generously included Kevin's foundation on their October 2023 Giving Guide. You can take a read here (page 86-87).
Please help to support Kevin's cause. ALL funds donated to the Kevin Geraghty Foundation go to research firms devoted to fighting this cruel disease. Thank you. 
p.s. you can read more about Kevin's ALS journey on his website: Geraghty Fights ALS
ALS is not an incurable disease ... it's an underfunded one.