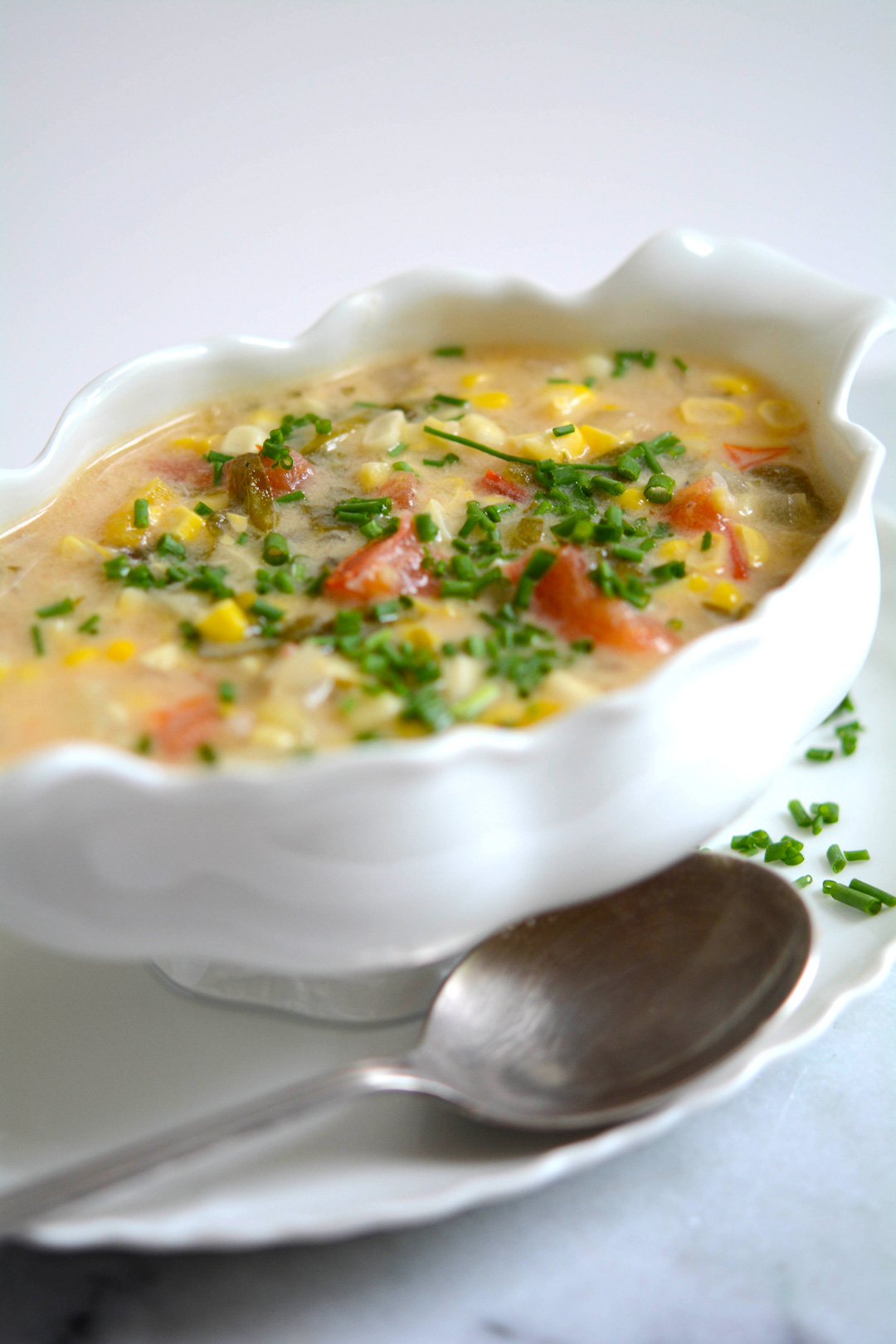 Grilled Corn, Pepper, and Tomato Chowder
Since summer if coming to it's bittersweet end, it seemed like a good time to introduce this fresh and tasty Grilled Corn, Pepper, and Tomato Chowder recipe. This chowder will take care of all your farmers market bumper crop purchases, and feed a crowd! Loaded with fresh basil, it will satisfy that end of summer yearning for fresh garden soup. It comes together quickly, just be sure to get the grill nice and hot for the corn and peppers. The local poblano peppers I bought were pretty hot, but they have such great flavor. You can swap out red peppers for the poblanos. Grilling the peppers brings out the sweet flavor, and they are such a nice compliment to the corn.
Makin' bacon
Did I tell you I made my own bacon! Sure did, brined it for 3 days and smoked it on the grill. It wasn't like traditional bacon, probably because I used pork shoulder instead of pork belly, so it was meaty and delicious! That was fun! I used that bacon for this recipe.
Swap it!
There are always swap-outs the my recipes, don't like it spicy? Leave out the jalapeño. Vegetarian? Leave out the bacon. Vegan? Use an alternative milk to the half and half and milk. Want it richer? Use all heavy cream. See where I'm going with this? Recipes are guides, not rules. Have fun, experiment, make mistakes and learn from them. But have fun, and enjoy yourself.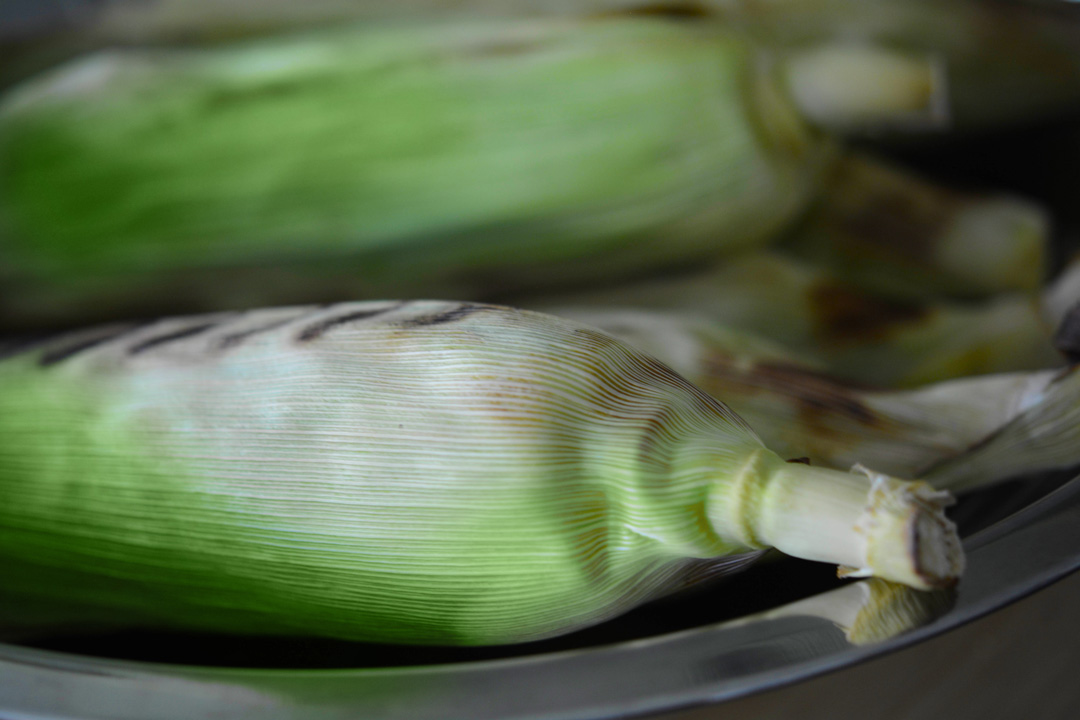 Have a wonderful weekend! Slainte.
Print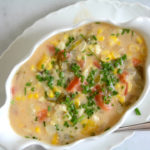 Grilled Corn, Pepper and Tomato Chowder
---
Description
This Grilled Corn, Pepper and Tomato Chowder recipe has a little kick. I used local poblanos and jalapeños, and was surprised how spicy it was, so be sure to check your poblano and taste for heat. It's a great way to use up that bumper crop or corn, tomatoes and basil. Slainte!
---
Grilling ingredients:
6

ears fresh corn on the cob (husks on)

1

yellow or red pepper

2

poblano peppers (you can use all red peppers if you don't like the heat,

2

large would be plenty)

1

jalapeno pepper
Extra yum:
Chowder start:
2 tablespoons

olive oil

3

cloves garlic (chopped)

1

large onion (chopped)

2

medium Yukon gold potatoes (chopped)

2

large tomatoes (chopped)

1 teaspoon

kosher salt (affiliate link)

1

bay leaf

4 cups

veg or chicken stock (entire box)
Add ins:
1 cup

basil loosely packed (chopped)

1 cup

milk

1/2 cup

half and half

1

–

2

tablespoons red or white wine vinegar (taste for seasoning)
Garnish:
3 tablespoons

chives or green onions (scallions) (finely minced)
---
Instructions
Turn the grill to high, trim off tassels and loose husk from corn. Throw the corn and peppers on the hot grill and turn every 10 minutes until husks and skins are charred on all sides, about 25-20 minutes. Remove from grill and let cool in a big bowl.
In a large dutch oven (cast iron or enameled cast iron are such perfect soup pots), cook the bacon until crisp, remove from pan to paper towels to drain and cool. Crumble the bacon and reserve for topping. Omit this step if not using bacon.
Clean out the pot with a paper towel, add oil and heat to medium-high. Add onions and sauté for 5-7 minutes until soft, add garlic and potatoes and sauté for 3-4 minutes. Add the tomatoes, and scrape up all the slightly charred onion mixture with a flat spoon. (the moisture released from the tomatoes will help scrape up all that flavor goodness.) Add the stock and bay leaf, stir and bring to a boil then reduce heat and simmer for 20 minutes, or until potatoes are tender (taste for tenderness and seasoning as well).
While onion mixture is simmering, shuck the cooled corn and peel the charred skin and remove the seeds from the peppers. Chop the peppers. With a sharp knife, cut the kernels from the corn, once the kernels are off the cob, using the back of your knife (dull side) scrap down the cob to remove the natural corn 'milk' to get as much as you can. This adds such a great corn flavor to the chowder, try not to skip this step. Set corn and peppers aside on cutting board.
---
Notes
Basil often turns a bit black once chopped, so try not to cut it until ready to add to the chowder. An easy way to chop basil (or any leafy veg) is to be sure it's nice and dry > layer leaves on top of each other > roll it like a cigar > then chop right though it, see, you have little ribbons (or a chiffonade as the fancy folks call it)