It's that time of year again! Grills back in the garage (oh, who are we kidding, we Minnesotans use our grills year-long!), roasting pans back in the oven! I roast everything in the fall and winter months, like I grill everything in the summer. Veggies, fruit, desserts one-pan dishes, just everything. With back to school, sports, work and busy evenings, it's so nice to have things on hand like this Roasted Turkey Breast that can be modified for any dish, any craving and any flavor profile.
This really is the perfect Roast Turkey Breast. Easy peasy too! What's so great about it you ask? It's perfect for sandwiches (bonus! you can ditch that line at the deli), stir-fries, soups, enchiladas, turkey pot-pie and salads (this recipe would work great in the Lemon Brown Rice Salad from earlier this summer) to name a few. And with this turkey, we're talkin' bone-in and skin-on, it's the only way to go. Get yourself a single our double breasted number, and it's a good idea to have a instant-read thermometer too. It will hold in the fridge for 3-4 days (if it lasts that long) and it's so versatile for so many dishes.
Another favorite thing I do this time of year is make soup. I LOVE to make homemade soup stock, it's just the best. Save the turkey bone in the freezer, or throw it on the stove top in a pan with some carrots, onions, celery, garlic salt and pepper corns. Cover with water and simmer for a few hours. Let it cool, strain it through some cheese cloth and boom, done. One thousand times better than any can or carton of stock. But, yes, I use those cans and cartons too. I really do, but love the homemade best. I'd love to know if you have made stock before, and if not, why? Shoot me line in the comments.
Buy some local turkey so you can make awesome Roasted Turkey Breast too!
Some of the best local turkey comes from Ferndale Market in Cannon Falls, off Hwy. 52. If you are headed to any apple orchards in that area, but sure to stop by, darling shop, adorable family run business with friendly small town service. You can find Ferndale turkey in quite a few stores in the Twin Cities as well. Order soon for Thanksgiving!
p.s. I use the same method for Roast Chicken Breasts, just a little less time in the oven. Of course you can add any extra flavoring you want, but I keep it simple for my roasts, and add other flavors later.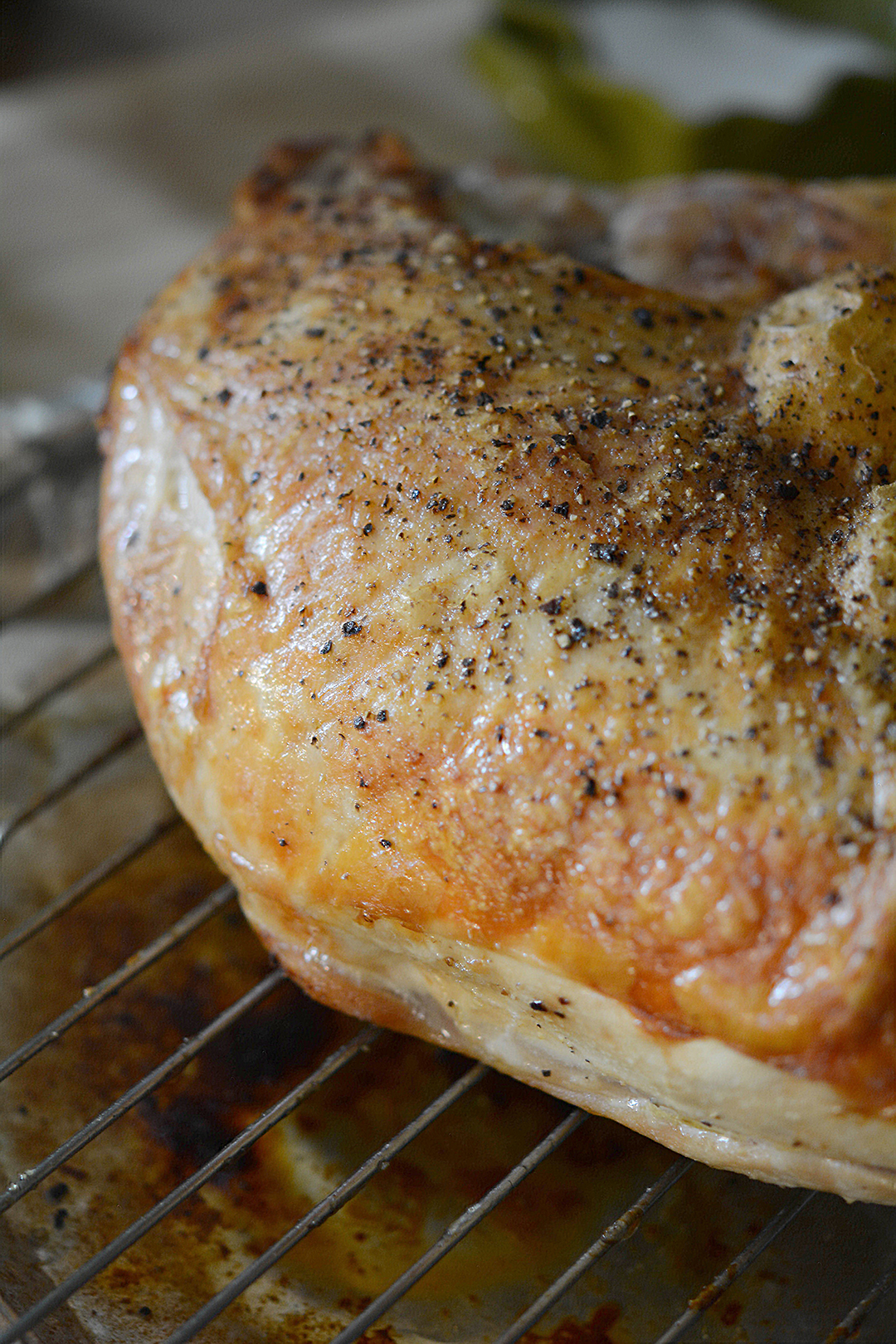 Print
Roasted Turkey Breast
One of my favorite things to do with roasted turkey breast is make a sandwich or panini. Total comfort food.
Ingredients
1

2.5-6 lb. Turkey Breast (either single or double) (bone-in, skin-on)

1 tablespoon

olive oil

1 teaspoon

kosher salt (affiliate link)

1 teaspoon

fresh cracked pepper
Instructions
Preheat oven to 425º degrees. Line a sheet pan with foil or parchment (helps with clean-up). Measure out the salt, pepper into a small bowl and oil into another (reason being, you don't want to have to grab the salt or pepper grinder with oily, turkey hands.) Place a rack on a sheet pan (jelly roll style pan) this helps distribute the heat around the turkey breast.
Place the turkey on the rack, and slip your hands between the skin and flesh, this is so you can get the salt and pepper directly on the meat. Rub the oil, salt and pepper all over the turkey, don't forget the other side and under that skin. Also, be sure to wash your hands very well, before and after this step.
Place the turkey in the oven, and close it quick. Turn the oven down to 350º. Hopefully you have an instant read thermometer so you can check it after about 40 minutes. Internal temp (not touching the bone) should ready around 160 degrees. About 50 minutes to an hour. The skin will be nice and golden brown.
Let cool for 15-20 minutes before removing from the bone and carving/chopping/shredding for any other dishes.
Remember to save that bone. Throw it in the freezer (and keep adding other bones to it) and I'll show you how to make some fantastic stock soon!
SaveSave
SaveSaveSaveSave
SaveSaveSaveSave
SaveSaveSaveSave
SaveSave
SaveSave
SaveSave
SaveSave