Why on earth are they called Bangers, you ask?
Bangers are sausages and were awarded the term during the War, when the links had a lot (more) fillers in them. They would BANG (pop open) when cooked, hence, bangers. That's the story I've been told, and I'm sticking to it. And Mash…well, for mashed potatoes of course! I've heard Bangers and Mash originated in the UK, but they are also a popular pub food in Ireland. 
Regardless of the story, a good Bangers and Mash meal is a fun and tasty once-a-year treat. So give them a try this Paddy's Day, and stay off the corned-beef (don't get me started :).
Inisheer
When the fam and I were in Ireland a few years ago, we made an overnight trip to one of the Aran Islands (Inis Oirr, aka Inisheer). It is one of the most glorious places I've ever been. Inis Oirr is the smallest of the three Arans, it's quiet and peaceful, and all you hear is the sea. The waters are as blue as the Caribbean. Inis Oirr even has a few dolphins, Dusty and Sandy, who swim alongside the ferry ride over (sometimes, if you're lucky, and we were!) White sandy beaches, with shells and rocks (you can see my lucky shell from the island in the photo, I keep it in my pocket, always.) 
Hiking on the island is amazing. But if you are pooped from hiking, you can hop on a horse and trap and get a fantastic tour of the island. Jump off to explore the Plassey, a ship-wrecked vessel that was thrown to shore, past high-tide, in the '60s. Only one survivor on the Plassey. Amazing story. 
After all your sight-seeing, head to one of three, yes three, pubs on the island. And your suspicions are right, we visited all three!
Bangers & Mash
Back to the star of today's show. Here are some tips:
This is my version of a yummy mash, if you want to load it up with good Irish butter and/or cream, go for it, you do you
 Irish sausages have very finely ground meat, almost soft. You may use whatever sausage you love, go for it 
Bangers & Mash are often served with Mushy Peas, that often come out of a packet, I'm not a fan, so I'd just sauté up some frozen peas in the knob of butter
The dried mushrooms are also my add. I think they give rich umami to the sauce and be sure to save the soaking liquid, it's gold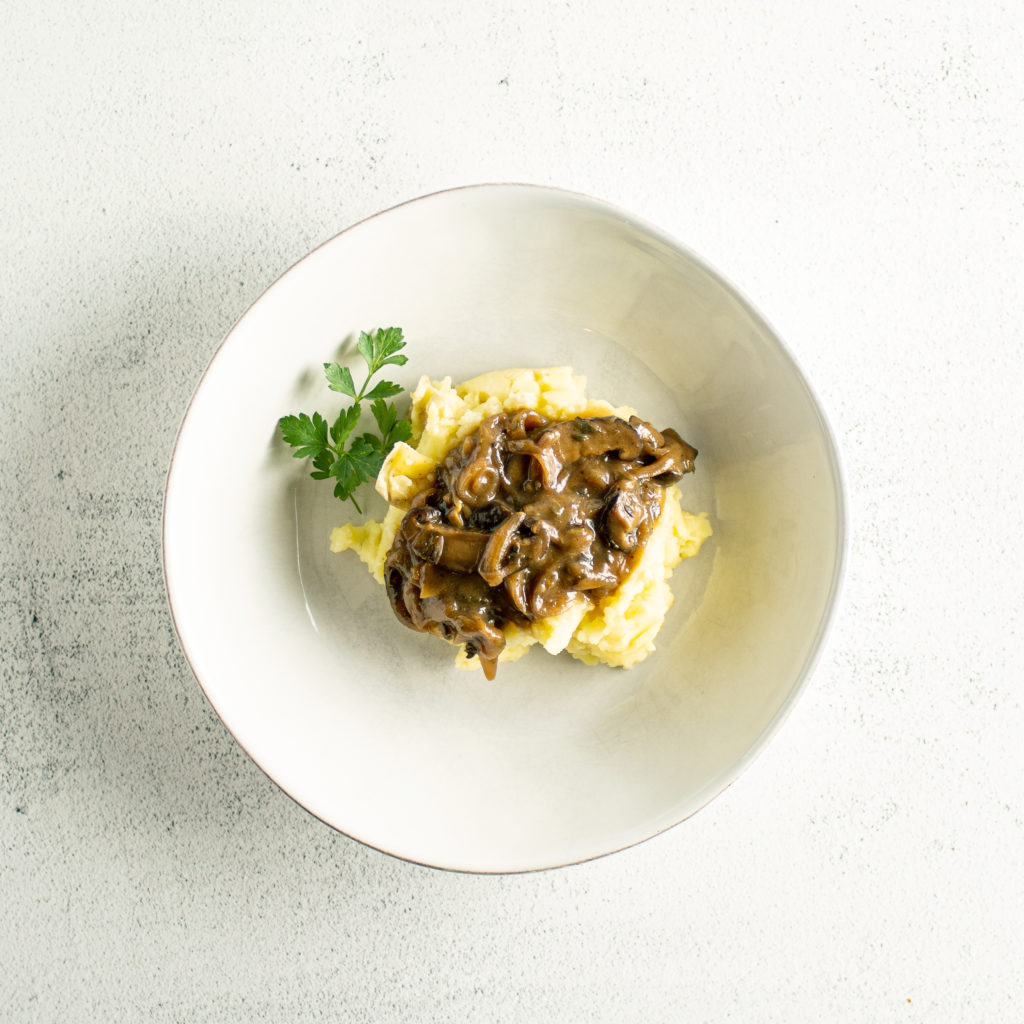 tip of the day:
heat the bowls before serving
Print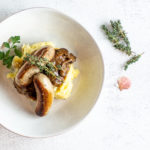 Bangers & Mash
Author:

Shelagh

Prep Time:

15 minutes

Cook Time:

30 minutes

Total Time:

45 minutes

Yield:

4

-6

1

x

Category:

Dinner

Method:

Stovetop

Cuisine:

Irish
---
Description
I enjoyed Bangers & Mash for the first time at a pub on Inis Oirr, one of the Aran Islands, off the coast of Galway. The Banger and Mash came out to the kitchen screamin' hot, I'll never forget it. Inis Oirr is a magical place that made this dish sing in my soul, especially on a chilly evening. My version is a bit lighter (if you can believe that!), but just as tasty.
---
For the Mash
2

pounds

of Yukon or Russet potatoes, cut in chunks (peel if you want, but I don't)

3

cloves garlic, peeled and left whole

1 tablespoon

kosher salt (affiliate link), divided

11/2

cup

buttermilk

2 tablespoon

butter
For the Sausages:
1

–

2

teaspoons olive oil

6

pork sausages (whatever sausage you like, or if you find the real deal!)
For the sauce:
2 tablespoons

butter

2

onions, thinly sliced

1

oz

. dried mushrooms, soaked in 1 cup boiling water for 30 minutes (save the soaking liquid)*

2 teaspoons

fresh thyme

1

cup

beef stock, about, you may need more

1 tablespoon

Worchestershire sauce

1 tablespoons

soy sauce

1/4

cup

Guinness
Fresh cracked black pepper, lots
Cornstarch slurry**

1/3 cup

Italian parsley, roughly chopped
---
Instructions
For the mash:
Place the potatoes and garlic in a medium saucepan, cover with cold water add one teaspoon kosher salt (affiliate link). Over medium-high heat, bring to a boil, then reduce to simmer for 20-25 minutes, until potatoes are completely tender. Drain the (keep the garlic, it's now sweet and flavorful) potatoes, return to the pot, and mash with a ricer or potato masher. Add the buttermilk and butter and combine well. Season with the remaining two teaspoons of kosher salt (affiliate link) and fresh cracked black pepper; add more if needed to taste.
Place the pan back on the lowest simmer to keep warm.
For the sausages:
In a medium-sized skillet, add enough olive oil to very thinly coat the pan. Add the sausage and brown on all sides (if the sausages are raw, brown them, then cover and simmer with a few tablespoons of water until thoroughly cooked). Be sure to scrape up those brown bits; that's flavor, baby.
Remove sausages to a plate and loosely cover with tin foil to keep warm.
For the sauce:
After soaking, finely chop the mushrooms, set them aside (save the soaking liquid!).
Melt the butter in the same skillet (as the sausages) over medium-high heat, and melt until the butter stops bubbling. Add the onions and a good pinch of salt. Stir for a bit until the onions brown a bit, add the chopped mushrooms and fresh thyme.
Reduce heat and simmer the onions until completely tender (about 20 minutes). Add a tablespoon or two of the beef stock if the onions seem like they are drying out. Add the soaking liquid from the mushrooms and beef stock, Worcestershire, soy, and Guinness. Simmer until sauce reduces and thickens a wee bit. You may add a slurry of cornstarch and stir into the sauce if it doesn't thicken up. Stir in about half the parsley. Taste and season with salt as necessary.
Place a spoonful of mash in a shallow bowl, top with a big spoonful of the onion/mushroom mixture on top. Land 1 or 2 sausages on top, and sprinkle with parsley to garnish.
Taitneamh (Enjoy)
---
Notes
*The mushrooms are optional, but they do add a bit of depth to the dish
**Cornstarch slurry combine 2 teaspoons water (or stock or Guinness), and 2 teaspoons cornstarch in a small bowl, add to the sauce (off-heat), and stir until sauce thickens.
Keywords: Bangers and mash, mashed potatoes, Irish meal, St. Patricks Day, Onion and mushroom sauce, traditional Irish dinner
I purchased my bangers from my friends at The Abundant Kitchen in Buffalo, MN (I was teaching a cooking class there, pre-pandemic) great little store. Those darn bangers have been waiting patiently in my freezer since before I left on my trip. I thought it's time, those bangers need a recipe.
Irish on Grand also has a wonderful selection of tasty Irish goods. They have bangers, good Irish bacon, they even have my favorite whole-meal Irish flour. Perfect for my  Irish Soda Bread recipe.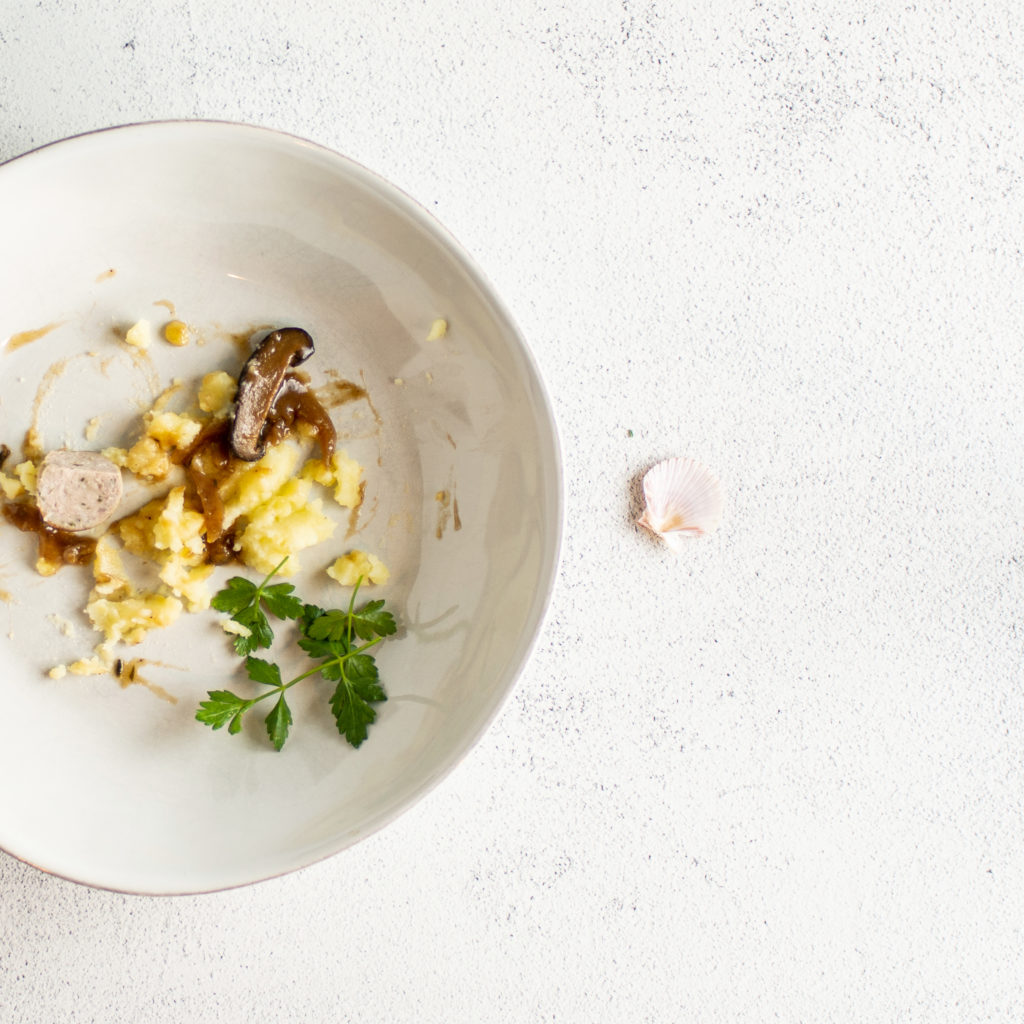 I truly hope you enjoy this recipe. and thanks so much for reading to the end. I love sharing my Ireland stories, and hope to have many more to come in the near future. I can't wait to return, my heart aches with lonesomeness. Bright days are ahead, so let's keep our eyes on the prize. 
Be well, sláinte.