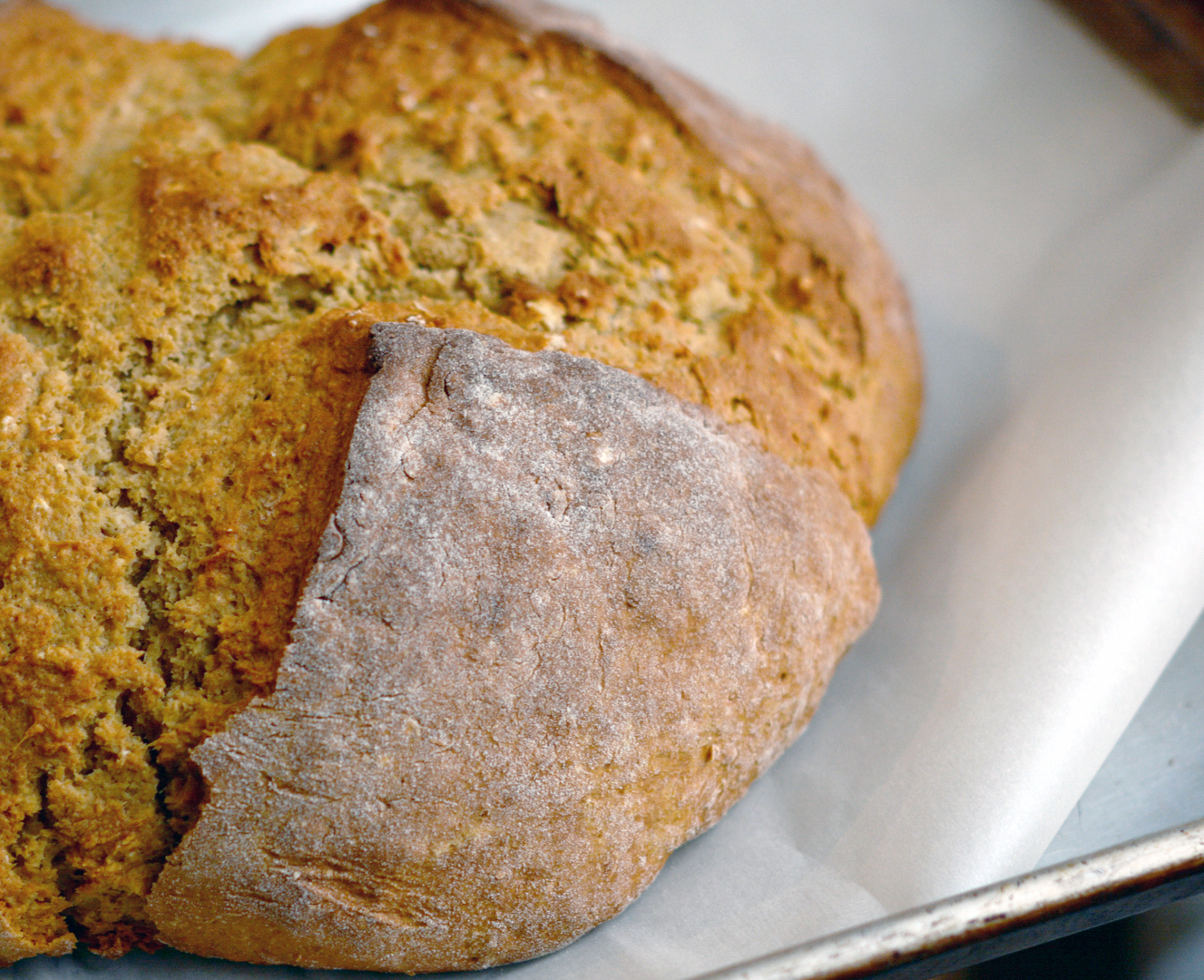 No need to knead! (see what I did there!), well, maybe a little, but you'll knead it right in the bowl! This is what you call a quick bread, or you can also call it the best Irish Soda Bread you'll ever eat! Very easy to do, don't be afraid. It makes two good sized loaves, so you can give one away to your favorite neighbor.
But hey, before we talk more about Irish Soda Bread, we need to talk about my next cooking class. Tis the season you know, and it's all about Irish Cookery! That what they call cooking classes in Ireland, cookery, don't you love it! All recipes will have an Irish twist this month, so keep on reading, and come to class!
Click here to sign up!  Registration for the is class ends this week, so hurry! Act now! (how's that for some infomercial copy!) Registration ends this Thursday.
"Boxty on the griddle, boxty on the pan; if you can't make boxty, you'll never get a man."
I don't add caraway or raisins to my Irish Soda Bread, that makes it American Soda Bread! I like mine pure and plain. But some nice additions to your lovely freshly baked delicious bread could be:
Irish butter
Irish cheese, like Dubliner or Skellig
Fig jam and goat cheese
Honey
This recipe is as close as I could come to 'cracking the code' on some of the breads we ate in Ireland. Gee, have I ever told you it's my favorite place on the planet? Like move there, and never look back kind of favorite place!
How do you celebrate St. Patrick's Day? I'd love to hear your traditions. Don't forget, everyone's Irish on St. Paddy's Day!
Print
Irish Soda Bread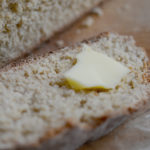 This easy quick bread makes the best toast ever! But eat it fresh the first day or two, no need to toast yet! Yum!
Ingredients
2 cup

s whole wheat flour*

2 cup

s unbleached white flour*

1/3 cup

brown sugar (or

1/4 cup

honey)

2 teaspoon

s baking powder

1 teaspoon

baking soda

1/2

cup oats (+ extra for sheet pan)

1 1/2 teaspoon

kosher salt

2

large eggs

1 1/2

–

2

cups buttermilk

3 tablespoon

s butter (melted)
Extras: whisk together the following for extra pretty loaves
Instructions
Preheat oven to 375˚. Grease baking sheet or line with parchment paper and sprinkle with extra oatmeal.
In large bowl mix the flours, sugar, baking powder, soda, oatmeal and salt. In smaller bowl, whisk together eggs, buttermilk and butter (if using honey versus brown sugar, mix it with the wet ingredients). Add the wet to the dry and stir with wooden spoon until moistened.
Add extra flour as needed and knead for 5 turns (right in the bowl, just to bring it all together in a nice mass) then shape dough into 2 or 3 round loaves using more flour as necessary, and place on baking sheet. Cut the sign of the cross on top of each loaf with a sharp and/or serrated knife. Bake until brown and crusty, 45-50 minutes.
You will know it's ready when you thump the bottom of the load, it should have a hollow sound. Let cool for a bit on a wire rack, then s

erve with some Irish butter and Irish cheese, or your favorite jam.
Extras:
If you want to make a REALLY beautiful Irish Soda Bread loaf, brush the top with the egg mixture and sprinkle with some more oats, then cut the cross in the loaf.
*If you have white whole wheat flour, you can use 4 cups of that instead of the other two. It's one of my favorite flours, all the fiber and nutrition of whole wheat, but a much milder taste. I use it for everything! Cookies too!
Notes
Why do you make the sign of the cross in the loaf?  Well, the Irish will say you are blessing the bread, which I suppose you are. But the real reason is that most free form breads, when baked develop their lovely crust, but if you don't make some intentional cuts in it, it will do it on its own. Not always in the most attractive way. So it's a way to manage that. But let's just say it's for some good Irish luck!
---
Wish we could find local buttermilk. There are some laws and restrictions in place that make it hard for local butter-makers to sell real buttermilk, so they sell the buttermilk (the milk left over after making butter) to companies who usually make it into powdered buttermilk. Strange, don't you think? What we buy in stores is cultured buttermilk, still a nice product, but you know, it'd be fun. I do use a local flour from Great River Milling Co. for this Irish Soda Bread recipe. I used their flour in my baking mix days. Organic, non-GMO and amazing, I love their white whole wheat! It's milled right over in sunny Wisconsin. You can find them in many co-ops and health food stores in the area.
Sláinte!
SaveSave
SaveSave
SaveSave
SaveSave