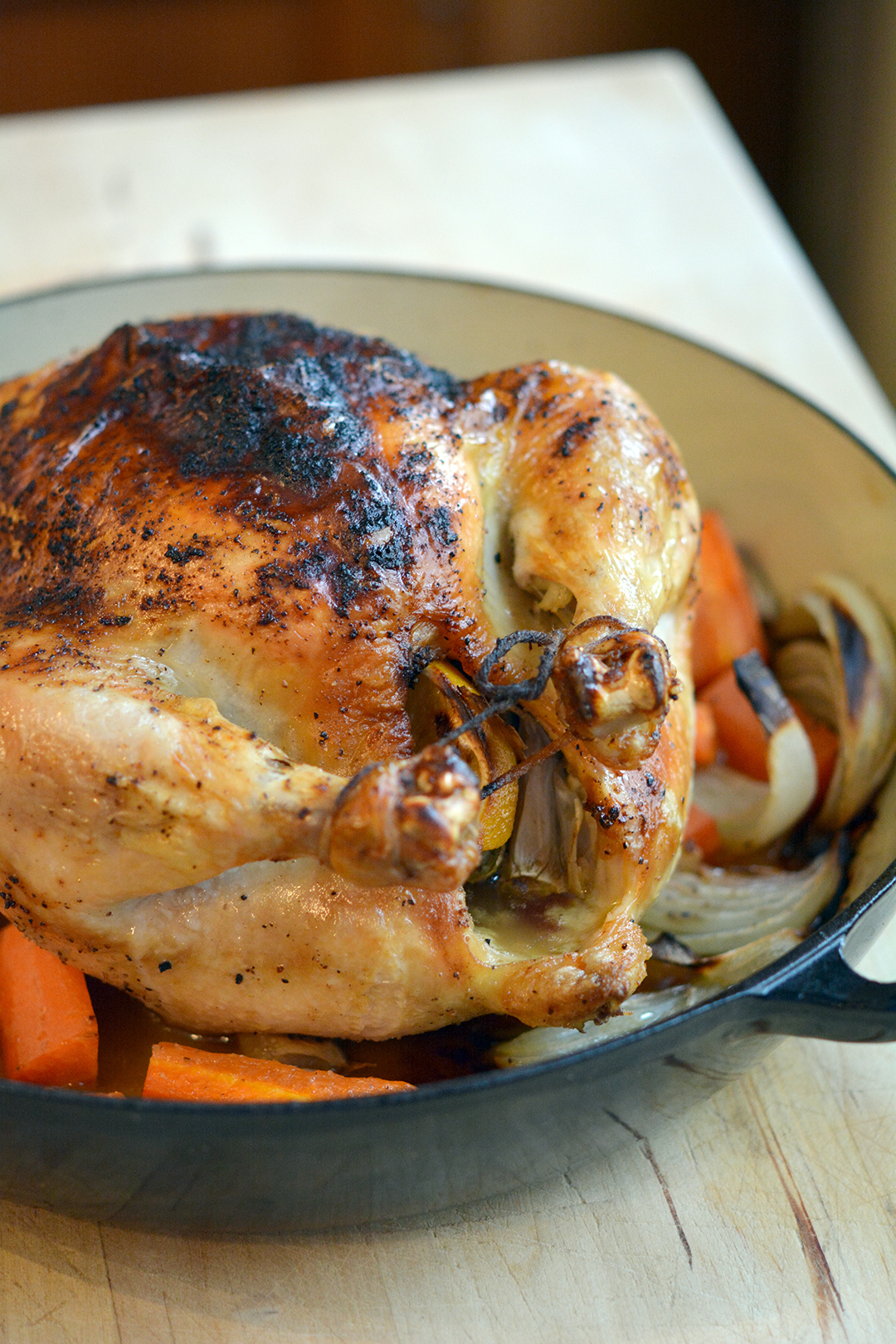 All chickens are welcome here 🙂 We love chicken in this house, all shapes and sizes (and obvi, extra crispy)! This Perfect Roast Chicken really is perfect for Sunday dinner or weeknights. And the leftovers, can we talk leftovers! Make soup stock (or you can call it trendy bone broth), sandwiches, salads (remember that Lemony Brown Rice Salad recipe, try it with this chicken and swap the rice for wheat berries, yum!). So very easy and versatile.
This recipe is similar to the Roast Turkey Breast recipe posted in the fall but even easier, and the lemon loads it with fresh flavor and added zing.
Tips:
No need to wash the chicken, just remove (and save!) the stuff inside. I've read that washing the bird just spreads around the possibly contaminated juices, so try and work close to your sink.
Have everything ready to go, so you don't have to touch your entire kitchen with 'chicken hands'
Place the salt and pepper into a small bowl, so 'chicken hands' can grab what you need, discard un-used
Wash your hands, often
Wash all countertops and utensils with a bleach solution
Print
Perfect Roast Chicken
Author:

Shelagh

Category:

Main Course
---
Description
Yes, I like my chicken extra crispy! To me, that brown crust is total flavor. You should keep an eye on your chicken when it's in the oven, if you don't like it this brown. Rotate the pan a few times, and baste it as well.
---
3

–

4

lb. whole chicken

3

carrots (sliced)

1

large onion (sliced)
kosher salt (affiliate link) (to taste)
fresh ground black pepper (to taste)

1 tablespoon

olive oil

1/2 cup

white wine (or chicken stock/water)
Stuff the bird with:
6

cloves garlic (smashed)
lemon (cut in quarters)

5

fresh thyme sprigs (or

1 teaspoon

dry)

1

–

2

fresh rosemary sprigs (or

1/2 teaspoon

dry)
kosher salt (affiliate link) (to taste)
fresh ground black pepper (to taste)
---
Instructions
Preheat oven to 400 degrees. Salt and pepper the inside of the bird.
Add 1 tablespoon some olive oil on the bottom of a roasting pan (that will fit the chicken). Place the sliced carrots and onions on the pan and toss with the oil, salt and pepper to taste, and place the chicken on top, breast side up. The veg are acting as a 'rack' for the bird and will help air circulate and cook evenly.
Stuff with the garlic, lemon and fresh herb sprigs. Truss (tie) the legs with kitchen string. This is optional, but it makes it look nice.
Drizzle some more olive oil (or butter, if you'd like) over the chicken and generously salt and pepper and pour wine into the pan. Place in the hot oven for approx. 1 hour and 15 minutes. Insert an instant read thermometer (a must in the kitchen), in the thigh, it should read approx. 160-165 degrees. Take the chicken out of the oven and let it rest for 15-20 minutes. It will continue to cook and should reach 170 degrees. See the trick there, perfect chicken, not over cooked!
You can make a sauce with all the yummy juices in the pan, just add some chicken stock and scrap up all the brown bits, add a little wine too. Strain through a sieve, and push all the juices/sauce through with the back of the spoon. Add any juices from the rested chicken as well. If you need to thicken it, just simmer it on the stove for a few minutes. Voila!
---
Notes
Save it all! or Save the Liver! (as Dan Ackroyd/Julia used to say!)
Save the veg from the stuffed bird as well as all the bones and make chicken stock. It's one of the easiest things to do, and sooooo good. But you can't rush it. If you have a back porch, aka fridge, it makes it very easy process. Recipe tk this week. 
Buy local!
Not sure where to purchase the best chicken? Well, of course, local is best. There are so many reasons why you should buy local: freshness, energy savings, nutrition, and supporting small farmers to name a few. One of the easiest ways to buy locally is through the CSA (consumer supported agriculture) and support places like T.C. Farm. They raise heritage chickens that are walking around pastures all day long. They are raised organically, chemical free. Gotta love that!
Hey, here's an fyi
Did you know that in my real life job, I'm a graphic designer? Yep, going on 31 years (gulp). Take a peek at my graphic design website and check out my portfolio. I love working with local food makers, so if you know of any with a need for visual branding, packaging, logos etc., have them give me a holler. Thanks!
SaveSave
SaveSave
SaveSave
SaveSave
SaveSave
SaveSave
SaveSave
SaveSave