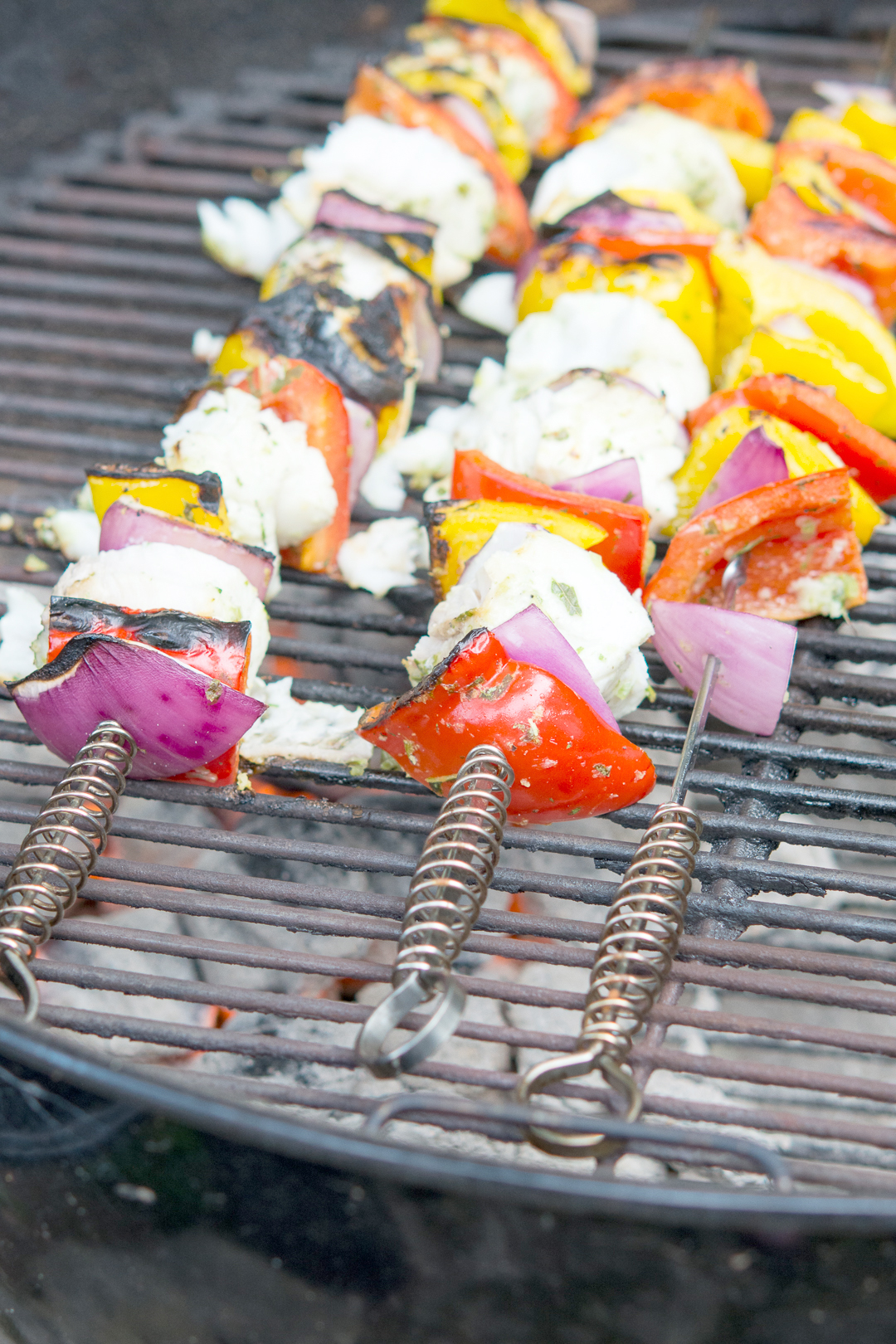 Vacation week! We are at the lake, pure perfection. Not sure I want to share this gem we are staying at, but if you really want to know, and learn how to rent it, get in touch with me, I can give you the owners info. Truly perfection, and not too far from the Twin Cities. Our first night we made these easy peasy Cabin Halibut Skewers, bringing a little of the exotic to the north woods of Wisconsin.
I love planning meals for a week at the cabin. It does help to have a few planned and a few dinners out. Always bring a pizza crust, or dough for lunchtime pizzas on the grill (to use up the leftovers), best cabin food trick around! Tonight we are headed to a good old-fashioned Wisconsin supper club. I see a Brandy Manhattan for the hubs in the near future! It's a crummy day, and as I write this, I'm using the wifi at the golf club the hubs is playing. Win-win, two o'clock and I'm already on my second Spotted Cow. Vacation, don't cha know!
I've photographed all of our cabin meals and will continue to let you know all about it over the next few days (or into next week, no wifi). So laid back, and quiet. A perfect relaxed place to cook. Just need a good charcoal grill (although I admit, charcoal can throw me!), a nice cold glass of chardonnay and a view of the lake, and life can't get any better.
Halibut is in season now (starts in May), through September. I prefer to get my fish at Coastal Seafoods. Their team so knowledgeable, and always have a great substitute to try for something fun. Grilling fish does not have to be intimidating at all. The best advice is to have a hot spot on one side, and a cool spot on the other. And never, never take your eyes off the grill once you placed the fish (or meat, or veg: whatever you are cooking). Flare-ups happen (stay tuned for the next 'oops' post with our Cabin Pork Chops). Like I often say, 'do as I say, not as I do!' They were still delicious, but a little charred.
Anyhow, back to the Halibut. You can certainly sub out swordfish or even shrimp for the halibut. Halibut is not inexpensive, but truly is one of my favorites, so creamy and buttery. A true treat. Fish doesn't need to marinate for long, but be sure it give it at least an hour to grab that delicious coconut flavor. A little exotic-ness up-north! Or, you could make those yummers Homemade Corn Tortillas (before you leave, of course) and make some fish tacos, now we're talkin!
Other cabin food tips:
grill up all sorts of veg and use the leftovers on a pizza or in your eggs
using your grill like a stove, just know your fire!
substitute swordfish or shrimp for the halibut
store your garden herbs in a dampened paper towel in a plastic bag, they should last for a few days that way
You don't need to have a cabin adventure to make this recipe. But do make it soon, before halibut season ends. Pretty darn sure you'll be hooked! Try it with other types of fish, ask your fish guy (hopefully the Coastal Seafood peeps) for the best fish for skewering and grilling, they know!
Print
Cabin Halibut Skewers
Author:

Shelagh

Prep Time:

20 minutes

Cook Time:

10 minutes

Total Time:

30 minutes

Yield:

4

1

x

Category:

Main Course

Cuisine:

Asian
---
Description
A true cabin treat, or for your urban re-treat! Use the leftover coconut milk to flavor your rice, it really does amp up the flavor.
---
1 1/2

lbs

. Halibut or swordfish (cut in 1-inch chunks)

1

cup

coconut milk (unsweetened)

2 tablespoons

olive oil

6

–

8

garlic cloves (chopped)

1

medium onion (chunked)

1

jalapeno pepper (seeded and chunked)

2

inches lemongrass (chopped (this is optional))

1

handful basil (or Thai basil if you have it)
Salt and pepper to taste
Baste for the fish (apply right before removing from the grill)
2

–

3

tablespoons butter

1

garlic clove (chopped up)
For skewers
1

medium onion (quartered and layers separated)

1

each red and yellow pepper (seeded and cut into 1-inch pieces)
---
Instructions
Trim skin from the fish. Blot dry with paper towels. Cut in 1-inch cubes and place in a medium-size non-reactive bowl.
Combine the coconut milk, oil, garlic, onion, jalapeno, lemongrass, basil, salt and the black pepper in blender and process to a smooth puree. Be sure you have it seasoned properly with salt. Pour over fish and toss to coat. Cover and let marinate in the fridge for at least 1 hour up to 4 hours, stirring occasionally.
Start or light your grill. Be sure to have a hot-spot and a cold-spot section. Melt the butter and garlic baste on the grill and put aside.
Thread the veg and fish on skewers 
alternating between them all. Drizzle some oil on the skewers, then 
arrange on the hot grill, turning with tongs when the fish is nicely browned about 8-12 minutes. Brush with garlic butter during last minute of cooking.
If heating the rice over the grill, add the pan to the cool side of the grill during the last 6-7 minutes of cooking the fish.
Serve immediately and enjoy!
---
Notes
Cabin time, means I'm not going to sit in the kitchen making rice. Now is the time to allow myself a few shortcuts, like an already cooked rice/quinoa pouch. Add in some of the leftover coconut milk and it will completely elevate your meal! And I put it right on the grill to heat up, not even turning on the stovetop or micro! 
SaveSave
SaveSave