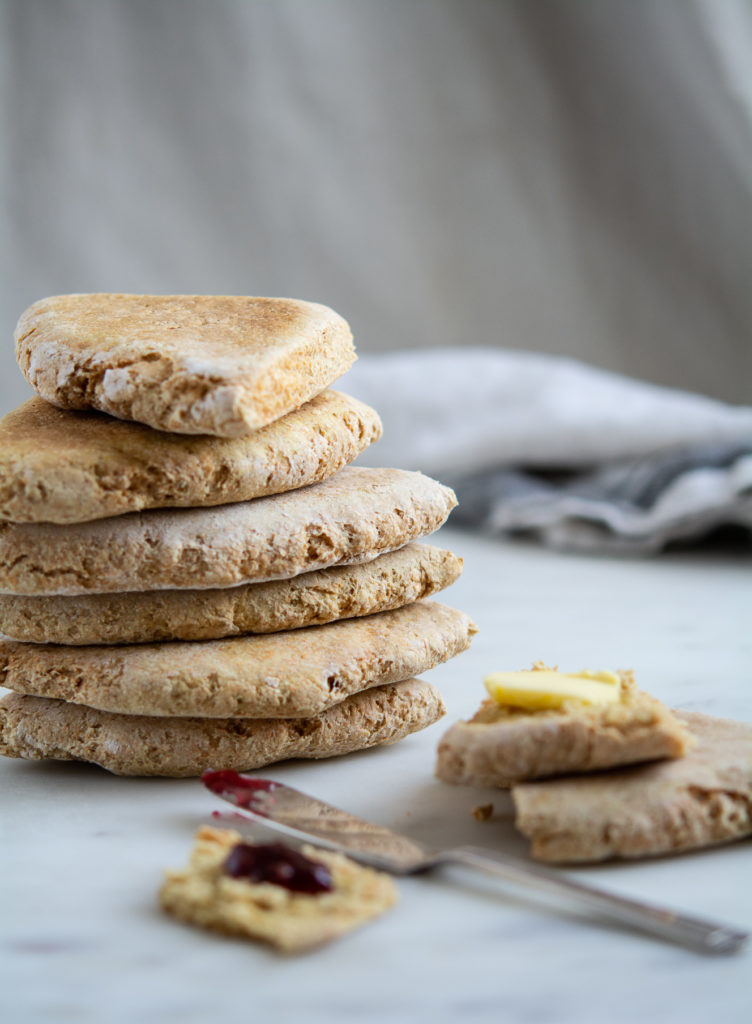 Soda Farls are a Northern Ireland breakfast treat, similar to Irish Soda Bread, but made on the stovetop in a skillet. I know, I'd never heard of them either, but they are quite tasty. A bit like an English muffin, but easier to make. Split them down the center, toast, top with jam and some good Irish butter. Best if eaten the day they are made, but great toasted after that.
This recipe is from Imen McDonnell's book Farmette. One of my favorite Irish cookbooks that I refer to it often, especially this time of year. Imen is an American (she has also has lived in the Twin Cities) who fell in love with an Irish farmer and now lives on a dairy farm with her family on the southwest of Ireland. For a few years now, I've been living vicariously through Imen, following her on social media, watching all the amazing things she creates. My very first blog post was her Cream Scones recipe, and it is still my favorite scone recipe to date.
What should I do with these tasty little dough puddles you ask?
top with your favorite Irish cheese, Dubliner comes to mind
add a little fig jam to the above
make a breakfast sandwich, using fresh eggs, local bacon and some herbed cream cheese and transport yourself to the Emerald Isle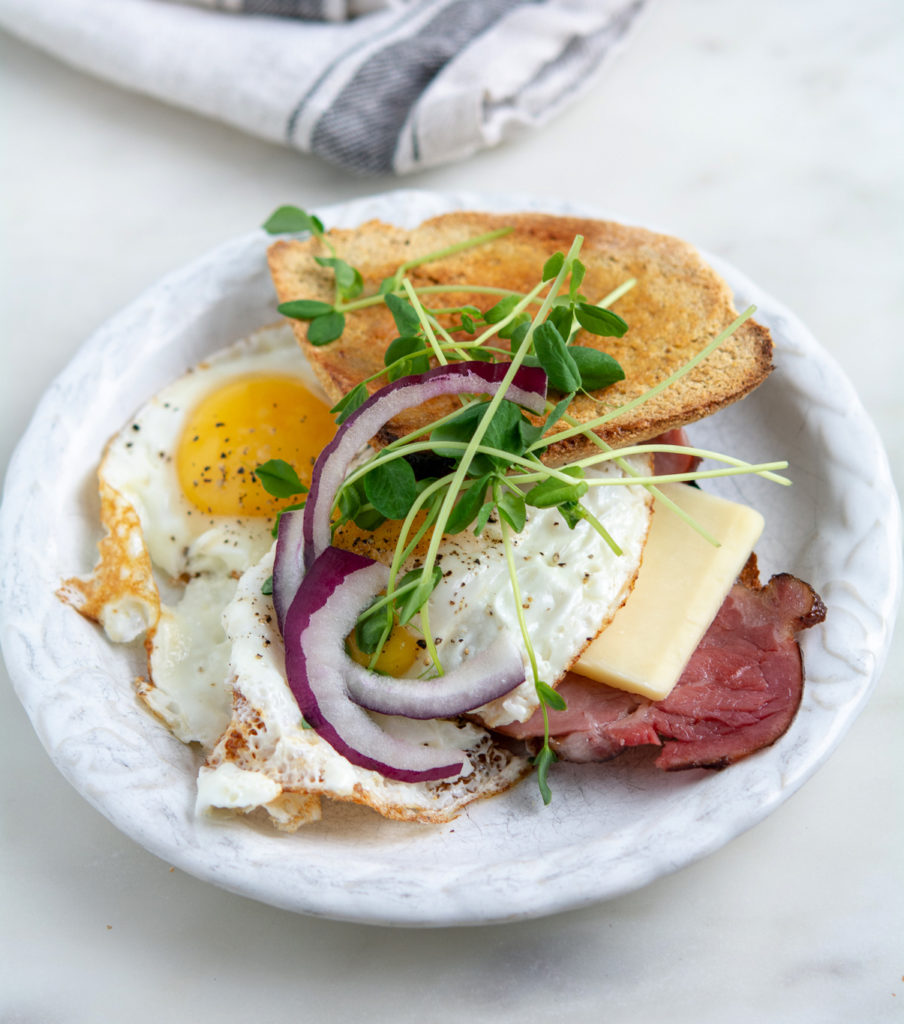 Print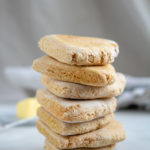 Irish Soda Farls
Author:

Shelagh

Prep Time:

5 minutes

Cook Time:

10-15 minutes

Total Time:

15-30 minutes

Yield:

8

farls

1

x

Category:

Breakfast

Method:

Stovetop

Cuisine:

Irish
---
Description
Soda Farls are quicker to make (only four ingredients) than Irish Soda Bread, best eaten straight away. Think of these farls as a blank canvas, a container for your favorite flavorful additions. Make a breakfast sandwich out of them, and be sure to use your favorite local Canadian (or in my case Minnesotan) bacon!
---
3–1/3 cups all purpose flour (I used about 1–1/2 cups of Sunrise Flour Mill Heritage Soft Whole Wheat Flour*)
1–1/2 teaspoons baking soda
1/2 teaspoon fine sea salt (I used 1 teaspoon kosher salt (affiliate link))
1–1/4 cups buttermilk
---
Instructions
In a large bowl, sift together the flour, baking soda and salt. Make a well in the middle and add teh buttermilk gradually, bringing the dough together with a mixing spoon (or batter whisk). This recipe makes a soft dough, but the more buttermilk you incorporate, the better the bread tastes.
Turn the dough out onto a well-flours surface, and knead it gently untl you have a smooth round shape, about 2 minutes. Divide the dough in two, and knead both again to form balls. Roll each out into a fairly thick disk, about 9-inches and cut into quarters.
Preheat a griddle, cast iron pan or heavy skillet over medium heat. To check the temperature of the pan, dust with a little flour. Once the flour starts to turn a tan color, brush it off, and turn the heat to low. Your griddle is now ready.
Place the farls on the griddle until golden brown on one side, 2 to 3 minutes. Flip and cook for another 5-10 minutes. The farls will rise into triangular pillows. Test for doneness by pressing the middle, if they still hold the indent of your finger, you must flip and continue to cook until firm.
Cool the cooked farls on a wire rack, cover with a damp tea towel to keep them soft or uncovered if prefer a drier crust. Slather in fresh butter and honey or marmalade to boost the flavor.
---
Notes
Imen's tip for testing the heat of the pan is brilliant! Keep in mind for other uses too.
*Milled from organic White Sonora Wheat. Many people find that heritage wheats are more digestible than conventional flours. This flour has plenty of gluten, don't be mistaken by that, but it is less processed than traditional all purpose. I use it when ever I can, it's delicious.
Keywords: Irish Soda Farls, Northern Ireland Soda Farls, Irish Soda Bread, dry griddle bread, St. Patricks Day, St. Paddy's Day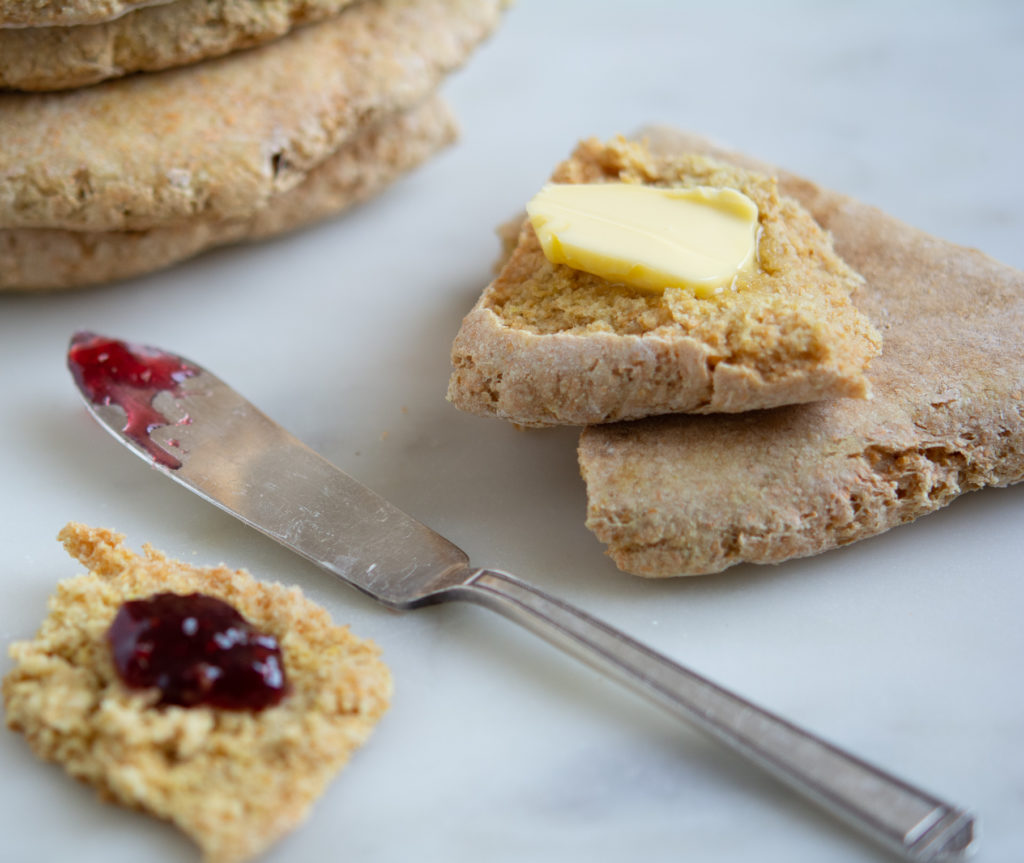 Éire (AY-ra) – Ireland. OUR ISLAND HOME.
The name of the country. The English form 'Ireland' derives from it and the poetic form 'Erin' is based on its dative and genitive forms Éirinn and Éireann. The land-goddess of the country had Éire as one of her names in medieval tradition, and writers represented Éire as one of three sisters, the others being Banbha (BAN-va) and Fódla (FOE-la), who also appear as personifications of the country, and are occasionally encountered in Modern Ireland in titles etc.
Sláinte | may you be well, cheers and health