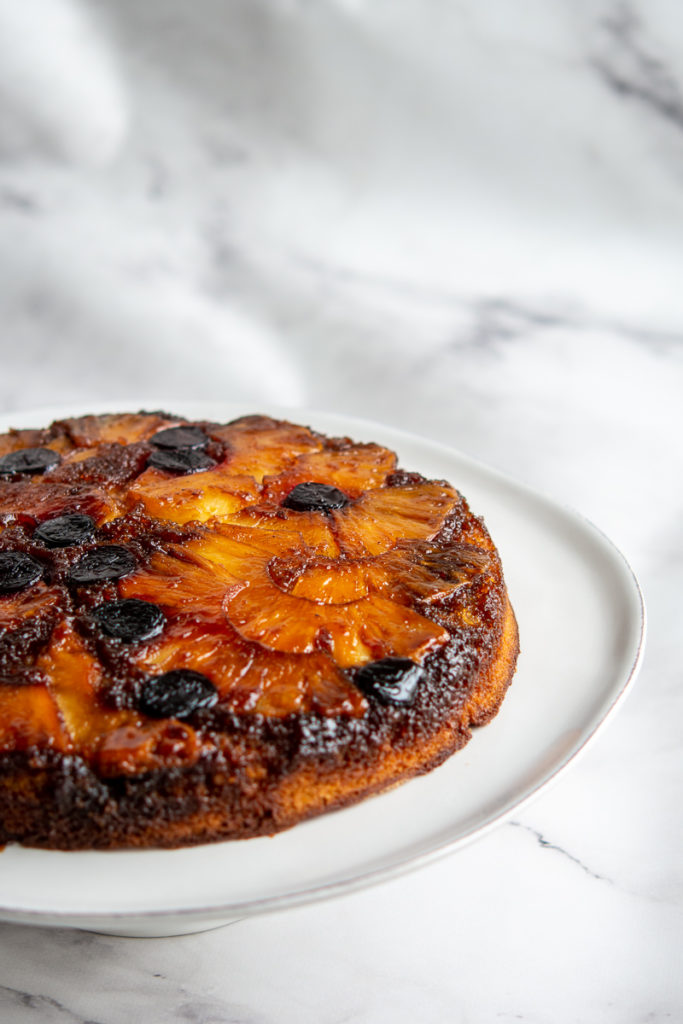 So, I was thinking we could all use a little Pineapple Upside-Down Cake to go along with this upside-down world we are living in right now.
On top of a global pandemic and civil unrest, my oldest brother Patrick passed away in the middle of it all. In tribute to Pat, I decided to create a new Pineapple Upside-Down Cake recipe, which was his favorite. Our mom would make the classic for special occasions, and it would last for about thirty seconds before it was devoured (by the time I came around, she had stopped making daily desserts!). Her version used canned pineapple, maraschino cherries, and those little Jiffy box cake mixes. Served with Cool-Whip, boy those were the days.
Those days are gone, so I decided I needed to upgrade this humble recipe to use real ingredients, meaning not processed, out of a box, jar, or tub. For that, we need fresh pineapple and seasonal cherries and real whipped cream as an option, well, not an option, please use real whipped cream.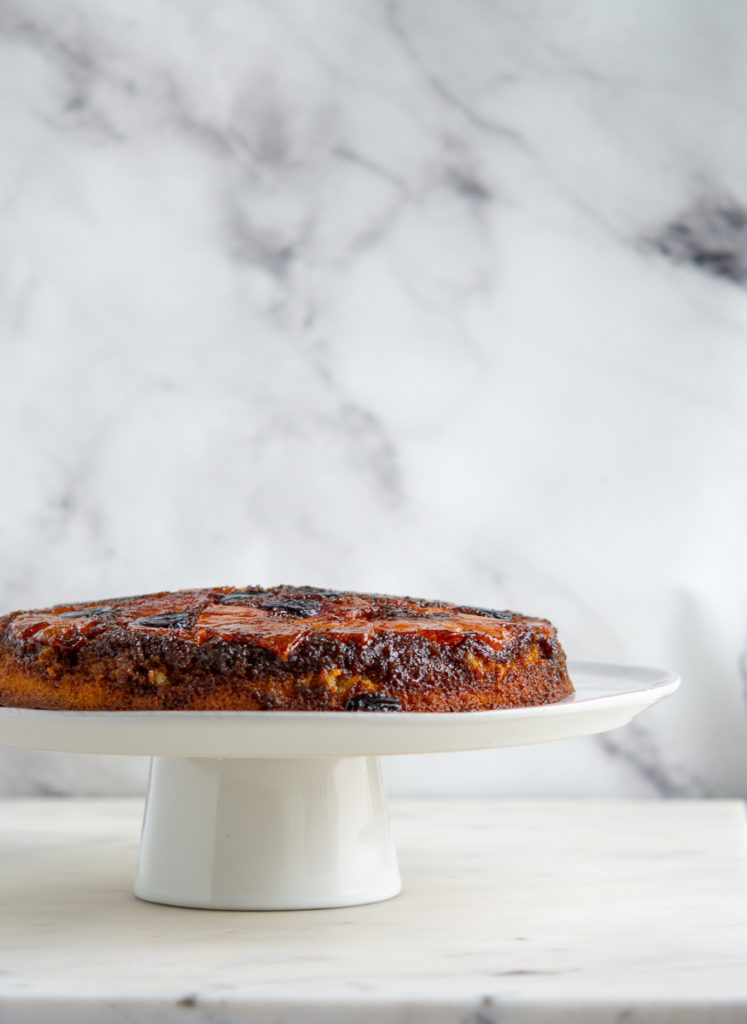 Why is this new version so freaking spectacular?
it's a great way to use up that overly ripe pineapple on your counter
this cake uses all real ingredients, although of course pineapple isn't locally grown (in MN!), you can head to your favorite farmer's market for cherries, right about now
it's basically a one bowl, one pan cake, no need for fussy frosting
my version is very informal, scatter those cherries, place the pineapple wherever you want, screw convention and make it your own
Not long ago, before my brother Pat got sick, I searched all over town looking for those Jiffy cake mixes, none to be found, so I had to go with a regular full-size box. But I still bought Pat a cast iron pan like mom's, the regular cake mix and some canned, sliced pineapple and sent the kit to him. Along with the recipe, of course. He loved it and called to thank me with some sentiments that I can't even write here because I'll cry. When he got sick, I made the cake and FedEx'd it, but I sent it to the wrong address. Once he finally received it, he still ate it…at least he said he did. 🙂
Maybe I should call it Pat's Pineapple Upside-Down Cake. I think he'd like it, even though he was a bit more traditional than me, and almost exactly twenty years older. Regardless, this is my homage to him. We miss you big brother but imagining those Miller High Life's are tasting mighty good up there in heaven. xo
Now let's make some cake, and eat it too. Because we can and should and need to. And those caramelized edges are worth it!
Special tools/equipment:
9-10″ cast iron pan or 9-10 inch cake pan/pie dish with 2″ sides (at least) If you don't have a cast iron pan, use a round cake pan or pie plate
Fine-mesh sieve
Mixer (either stand or handheld)
Cake plate for serving (optional)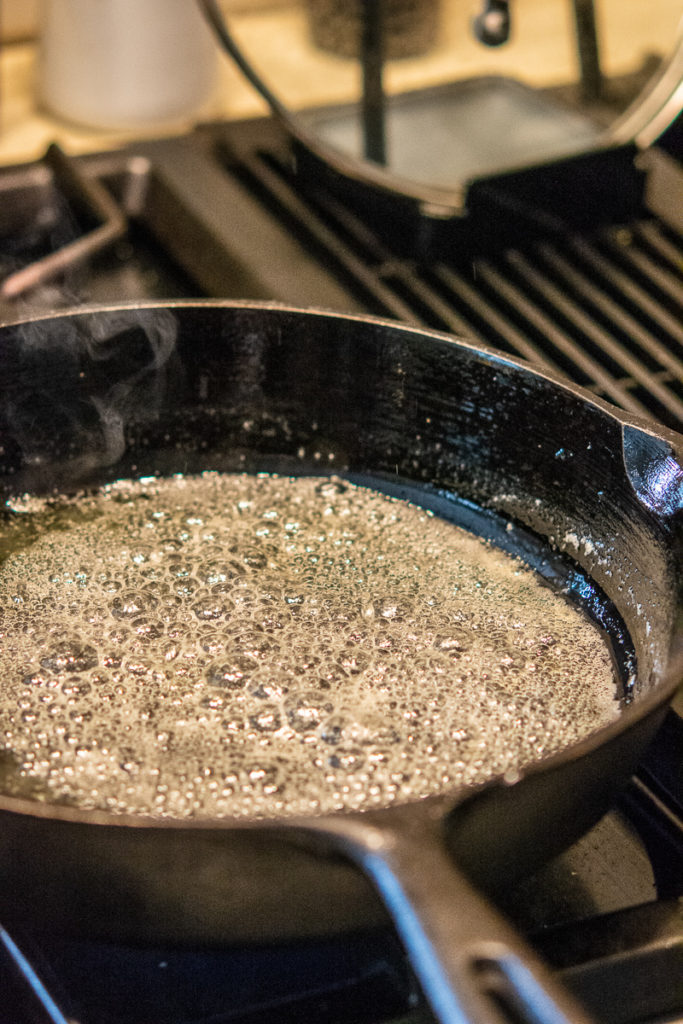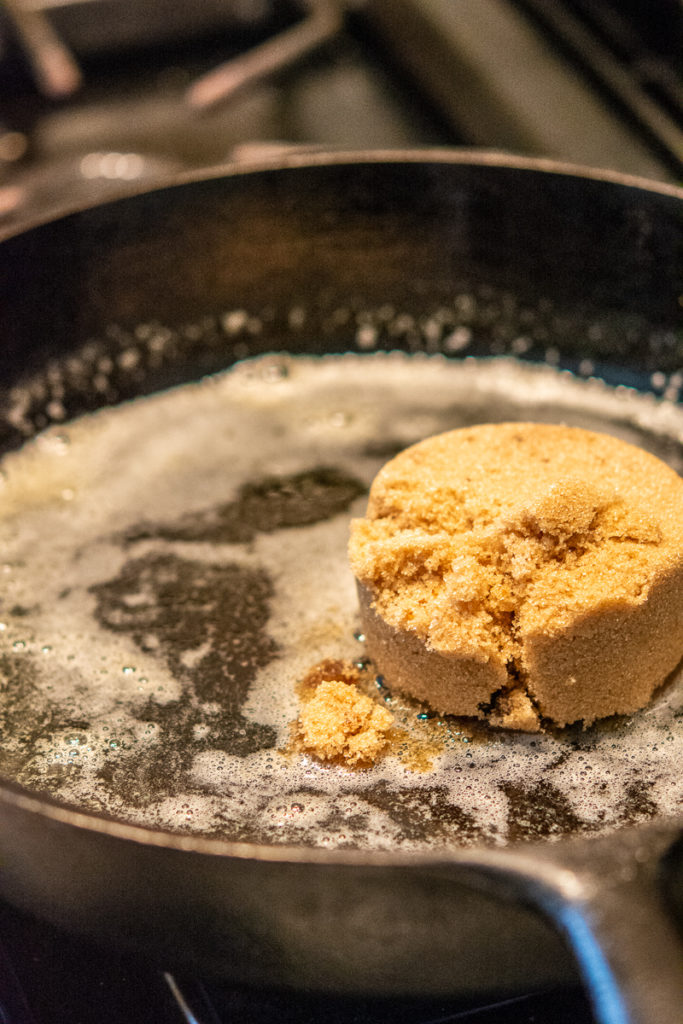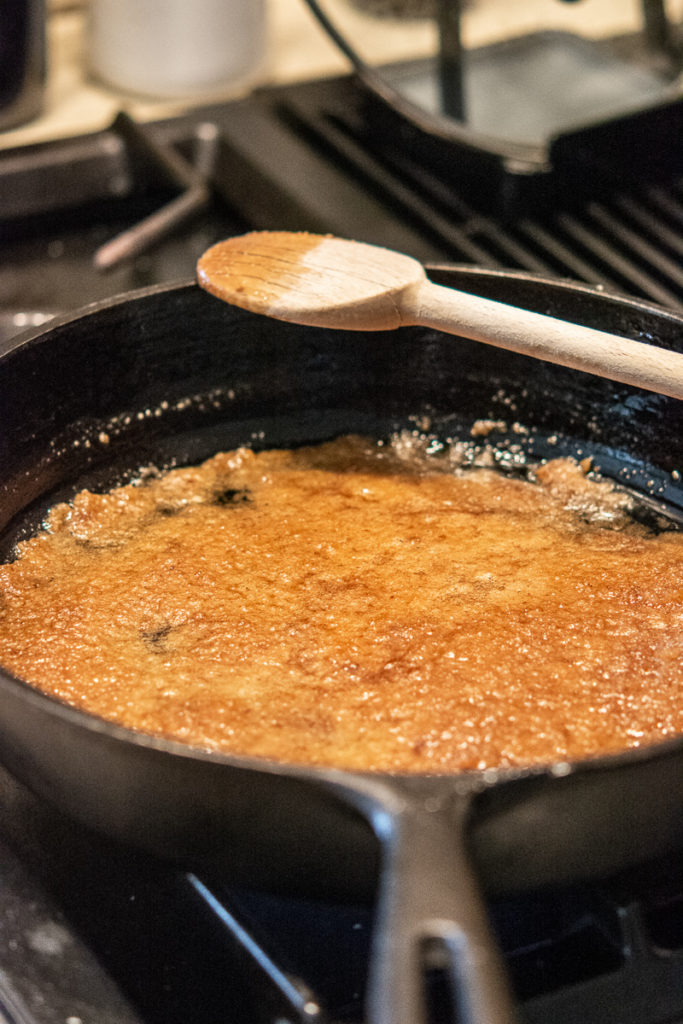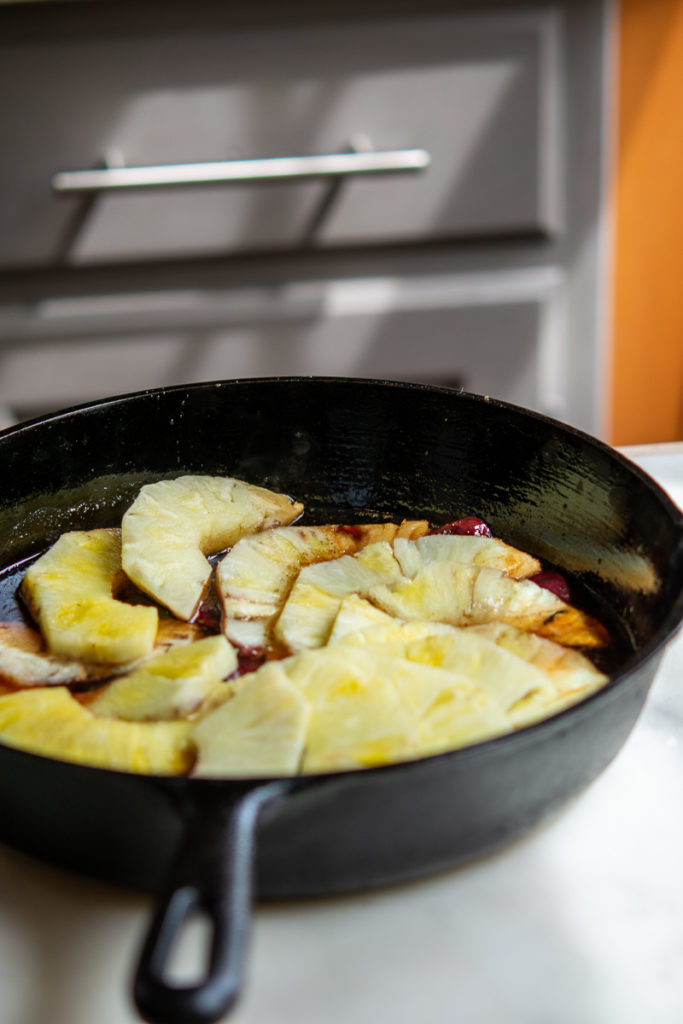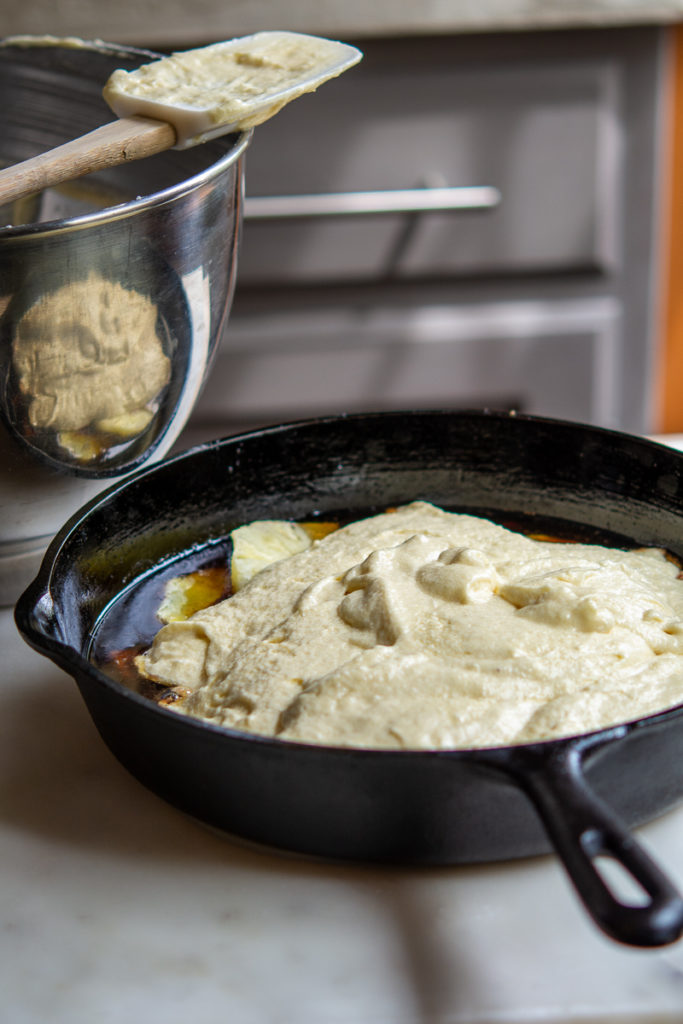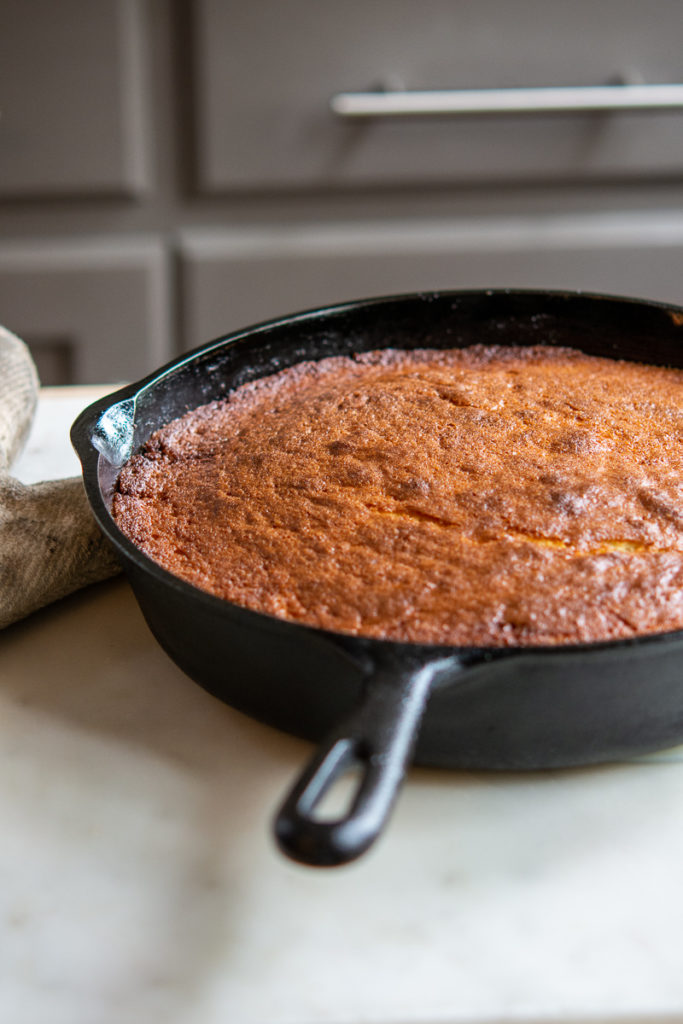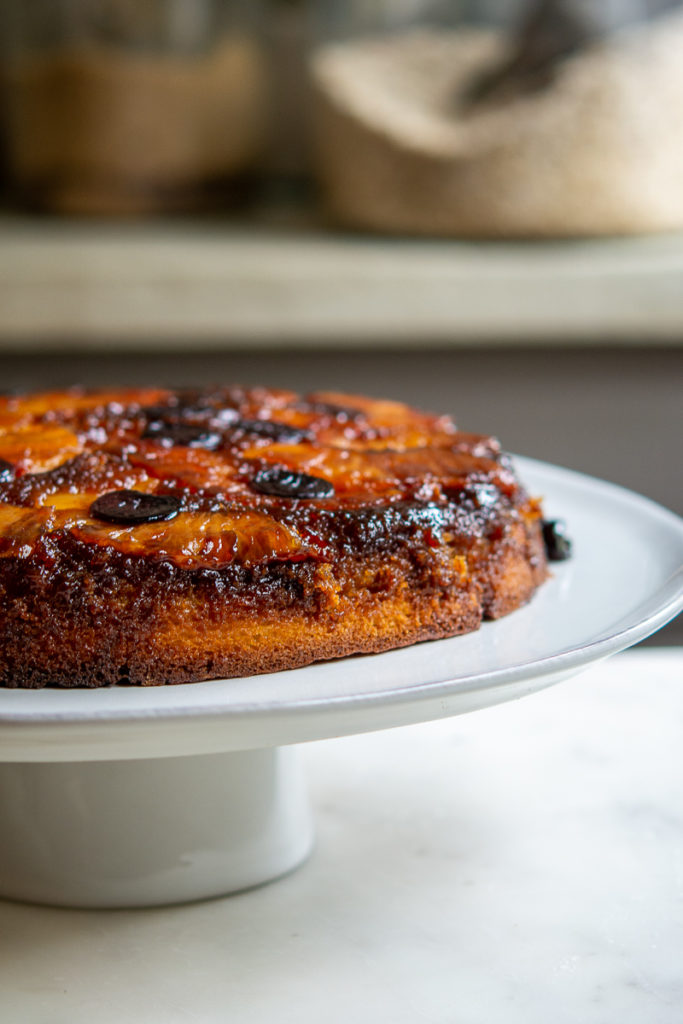 If you don't mind if I brag a little bit, but my Irish Soda Bread recipe was featured in the Food & Drink section of HuffPost story yesterday. Pretty exciting for a wee-blogger like myself. Take a peek, and thanks, Julie for the toot-toot!
Print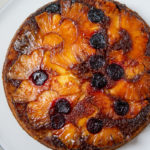 Pineapple Upside-Down Cake
Author:

Shelagh

Prep Time:

30 minutes

Cook Time:

40-45

Total Time:

1 hour 15 minutes

Yield:

8

–

1

0

1

x

Category:

Dessert

Method:

Baking

Cuisine:

American
---
Description
If your pineapple seems a bit under-ripe, this is a perfect recipe for you, since the pan goes into the oven while it's preheating. If your pineapple is over-ripe, this recipe is perfect for you, because you can skip that preheating the pineapple step. (oh, but be sure to preheat the oven!)
---
Topping
Which technically starts on the bottom because it's an upside-down cake. Funny how that works, huh.
1/4

cup

(56g/1/2 stick) butter

1/2

cup

(106g) packed brown sugar (light or dark is fine)

8

–

10

fresh pineapple slices (peeled and cored), sliced about 1/4″ thick, sliced into rings, then cut in half-moons

8

–

10

fresh cherries pitted and sliced in half
Cake
1

and 1/4

cups

(150g) all-purpose flour

1/4

cup

(28g) cornstarch*

1 teaspoon

baking powder

1/4 teaspoon

baking soda

1/2 teaspoon

fine salt

8 tablespoons

(

113g

) butter, room temperature

2/3

cup

(132g) granulated sugar

2

large eggs, room temperature

1 teaspoon

vanilla extract

2/3

cup

(152g) buttermilk, room temperature
---
Instructions
For the topping
Preheat oven to 350°.
Over medium-high heat, add the butter to the cast iron pan (no need to spray or butter the pan) and melt until it becomes bubbly, foamy, and lightly browned (keep an eye on it!).
Add the brown sugar and stir until melted and evenly distributed for about 2 minutes. Scatter the cherries over the butter, and arrange the pineapple half-moons on top of the cherries and brown sugar butter mixture. I like to do it in a fan shape, this is a casual one-pan cake, do as you please.
Put the pan in the oven while it pre-heats, this will help get the pineapple cooking and soften it a bit about 15- 20 minutes. If your pineapple is really ripe, you can skip this step.
Prepare the cake batter while the fruit is in the oven.
For the cake:
Sift the flour, cornstarch, baking powder, baking soda, and salt together, passing through the sieve at least 3 times. Set aside.
With a handheld or stand mixer fitted with a paddle attachment, beat the butter on high speed until smooth, about 1 minute. Add the sugar and beat on high until light in color, about 1 more minute. Scrape down the sides and up the bottom of the bowl with a rubber spatula.
With the mixer on medium speed, beat in the eggs, one at a time, until combined. Add vanilla and mix.
Turn the mixer to low, alternate adding half the flour mixture with half the buttermilk, repeat. Work quickly as to not over mix the batter (or it will be a tough cake).
Scrape down the sides to check there isn't any dry flour at the bottom of the bowl. The batter should be slightly thick.
Remove topping from the oven (if you needed to cook your under-ripe pineapple). Pour the batter evenly over topping, spread with an offset spatula to the edges.
Bake for about 40-43 minutes. The cake is done when a toothpick inserted into the center of the cake comes out with a couple of moist crumbs. (Note: sometimes the cast iron pan cooks faster than a glass or metal cake/pie tin) Check around 35 minutes for doneness.
Remove the cake from the oven and cool on a wire rack for about 15 minutes. Using hot-pads or towels to protect yourself from juices overflowing and the hot pan, invert the cake onto a cake stand or serving platter. Cool the cake completely at room temperature before slicing and serving.
---
Notes
*adding cornstarch and sifting at least 2 times, preferably 3, turns regular flour into cake flour. The cornstarch lowers the gluten level of the flour, which leads to a softer texture. Pretty cool huh. 
Keywords: Pineapple upside-down cake, Pineapple upside-down cake recipe from scratch, Skillet cake, Pineapple upside-down cake recipe, Fresh pineapple upside-down cake recipe, Fresh pineapple and cherry upside-down cake recipe, Pineapple upside-down cake recipe cast iron pan
Need more ideas for summer grilling? Check out some of these winners!
Need some uplifting news?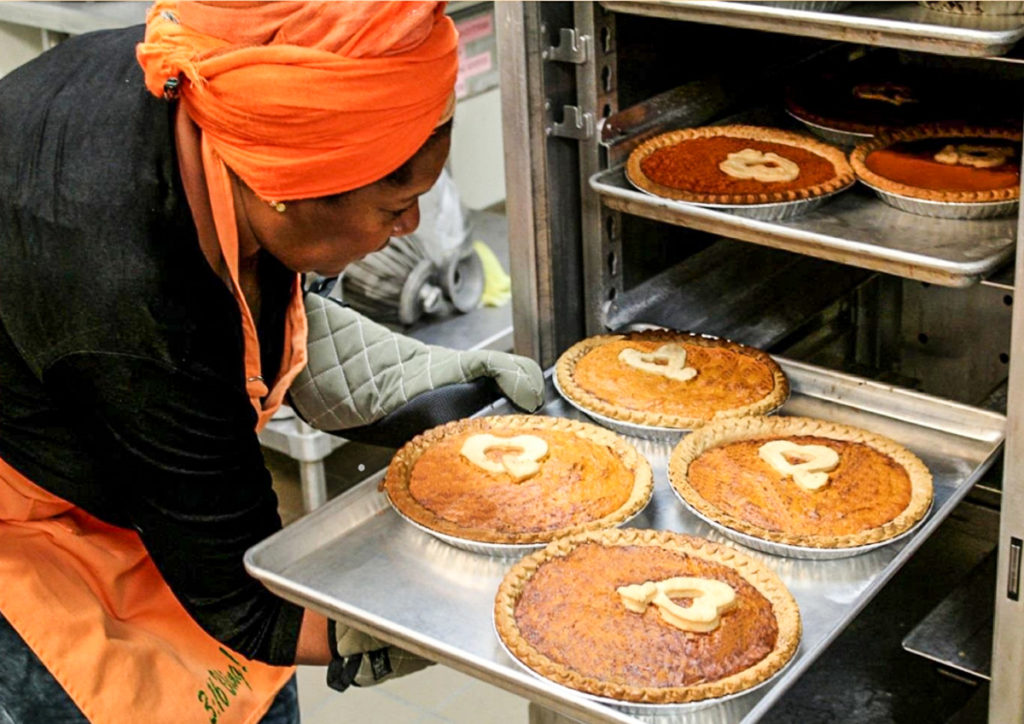 Looking for some happy things to warm your heart? Take a look at a local pie maker, Rose McGee. Rose started Sweet Potato Comfort Pies and makes these pies for people in times of crisis. She began with a calling to head to Ferguson, Missouri after the police shooting of Michael Brown. This is a wonderful story in HuffPost about her compassion and kind-heartedness. She is now donating pies in her own city, Minneapolis, something I'm sure she never anticipated. I know about her gentle spirit for a fact because I met Rose way back in my baking mix business days, we rented a commercial kitchen together. If you'd like to donate to her mission, please visit her website. Rose, you warm my heart.
If I may leave you with one wish, please be gentle with your thoughts and words. Our human race needs kindness and our souls need healing, many more than others. We are all brothers and sisters, please remember that.
xo