Two weeks ago, while visiting the west of Ireland, Westport to be exact. We stopped at Cronin's Sheebeen. A cozy old restaurant/pub nestled in a bay with a sea view. Knowing I'd be making a Spring Risotto for an upcoming appearance on Twin Cities Live, I thought, what luck! An promptly knew what my dinner order would be.
It was gorgeous! The herbs and pea shoots direct from the garden out back, and all other veg is from local suppliers. It truly was a heavenly dish. The presentation was stunning too. 
My first thought was, 'I've got to crack the code on this'! Well, a few days later, as we were testing to leave back to the U.S., I tested positive for Covid. Needless to say, if you haven't read my previous post, You Can't Make This Sh*t Up!, I was marooned for an extra week. And trust me, it wasn't fun. 
But after a few days, feeling better, I headed to my favorite greengrocer, Robbie's, for the ingredients. Of course, they had gorgeous peas in the pod, broad beans, and tender asparagus. I just needed a good chunk of cheese, the arborio, and some good stock, and I was set to make the dish. 
Who would have thought finding a good chicken stock would be so difficult in a suburb of Dublin? The local Tesco had what they called chicken broth. I gambled and bought it (not used to the labels and brands, etc.). Low and behold, and honestly not surprised, when I opened the cans, it had veg and rice in it. Ugh. Plan B commenced and I strained the contents and supplemented them with some bouillon cubes from the cupboards of the house I was staying in. Not ideal, but I didn't have time to make stock. It all worked out well and was a good start to cracking that code. Mission accomplished.
I finally made it home last Saturday night and couldn't wait to cook again in my own kitchen. Grateful to be home. While testing this recipe, the vegetables were the hard part this time. No peas in their pods, and certainly no broad beans yet. Once again, kitchen improv to the rescue. We have nice asparagus this time of year, and frozen peas are always a good bet. I'm using microgreens instead of pea shoots and had homemade stock in the freezer. A good risotto is only as good as the stock you use, so if you have homemade great, otherwise, buy good quality stock.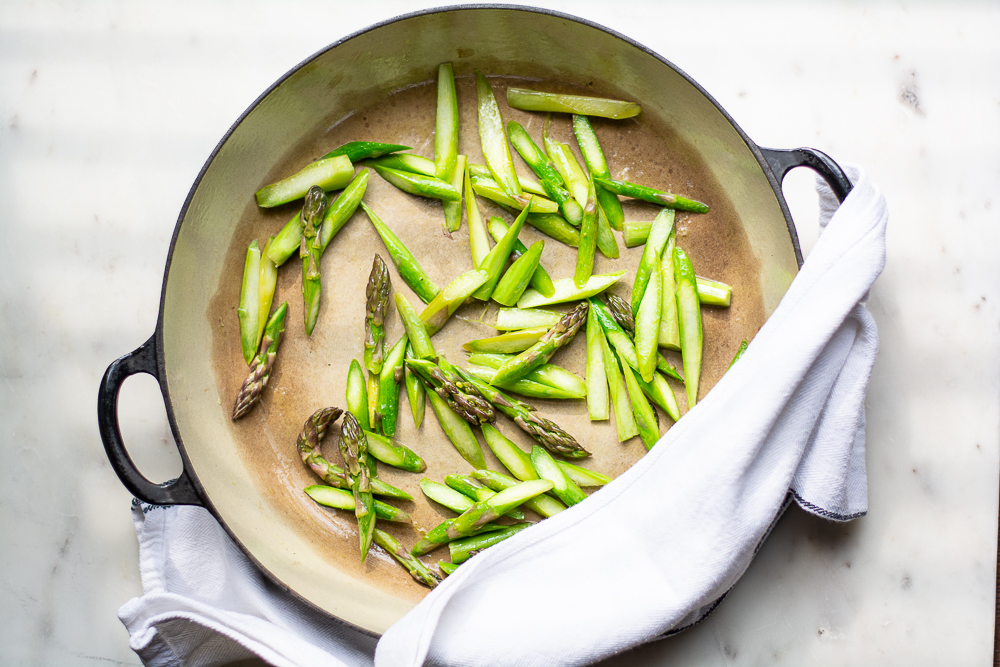 OPTIONS FOR SPRING RISOTTO
Broccoli or other veg for asparagus

Any fresh herb for thyme

You may substitute chicken or vegetable stock for the wine, but have a few tablespoons of white wine vinegar handy if the risotto needs a hit of freshness

Arugula for peas

Goat or cream cheese for the heavy cream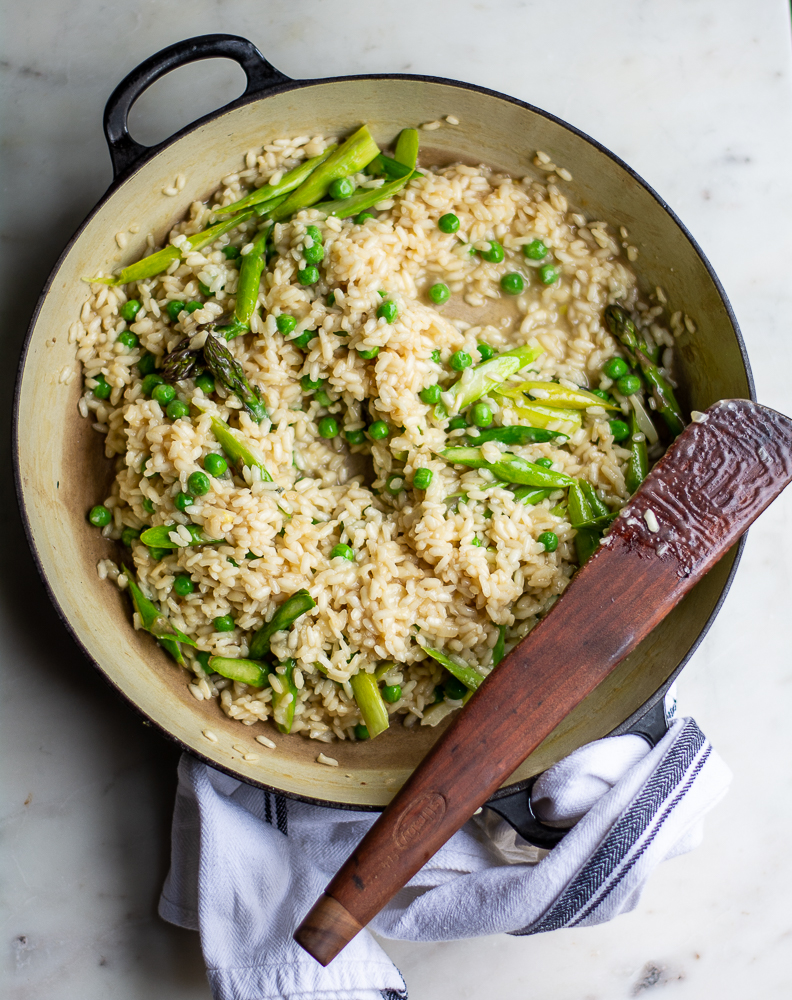 Print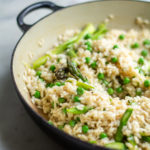 Spring Risotto
Author:

Shelagh

Prep Time:

15 minutes

Cook Time:

25-30 minutes

Total Time:

45-50 mintues

Yield:

4

1

x

Category:

Dinner

Method:

Stovetop

Cuisine:

American
---
2 tablespoons

olive oil (divided)

1

lb

. (1 bunch) asparagus, cut at sharp angle, in 2″ pieces

1 tablespoon

butter

1

large shallot (about

2 tablespoons

), finely minced

2

–

3

garlic cloves, thinly sliced

1 1/2

cups

arborio or carnaroli rice

10

sprigs of fresh thyme, leave on the stem

1 teaspoon

kosher salt (affiliate link)

1/2

cup

dry white wine

5

–

6

cups

chicken stock

1

cup

fresh or frozen peas

1/4

cup

heavy cream (optional)

3

oz

. finely grated Parmesan cheese + extra for serving
Fresh cracked pepper to taste

1 tablespoon

butter (optional)

1

lemon, zested and juice from half, (about

one tablespoon

)

2 tablespoons

fresh chives, minced (or fresh parsley)
Microgreens to garnish (optional)
---
Instructions
In a medium saucepan, bring the chicken stock to a simmer, keep covered until ready to use.
In a heavy dutch-oven, heat one tablespoon olive oil and add the asparagus, sprinkle with a pinch of kosher salt (affiliate link). Saute until crisp tender, about 2-3 minutes. Remove asparagus from the pan and set aside.
Into the same dutch oven, over medium heat add the remaining olive oil and butter. When the butter stops bubbling, add the shallots, thyme sprigs and garlic, and another sprinkling of salt. Cook, occasionally stirring, until the shallots are translucent, about 4-5 minutes. Add the arborio rice, and the remaining salt and toast until the rice begins to turn opaque about 2 minutes.
To the pan, add the wine and simmer until almost absorbed into the rice. Start adding the simmering chicken stock ½ cup at a time to the rice and cook, frequently stirring, until the stock has been completely absorbed. The rice and stock should bubble gently; adjust the heat as needed.
Continue cooking and adding stock ½ cup at a time and allowing the rice to absorb mostly it before adding the next ½ cup until rice is tender, about 25 to 30 minutes in all. The starch from the rice will thicken the stock that hasn't been absorbed. Risotto is ready when it is tender, with a little bite, like al dente pasta. Pluck out the thyme sprigs and discard.
Add the peas and reserved asparagus, heat until the peas defrost. Stir in the heavy cream and Parmesan. Swirl in butter if desired. Stir in the zest of one lemon and juice of half the lemon.
Dust with fresh chives and serve in shallow bowls with extra Parmesan and top with microgreens.
---
Notes
Risotto should be a fairly loose consistency, like porridge add extra stock as needed.
Keywords: spring risotto, risotto primavera, vegetable risotto, asparagus and pea risotto