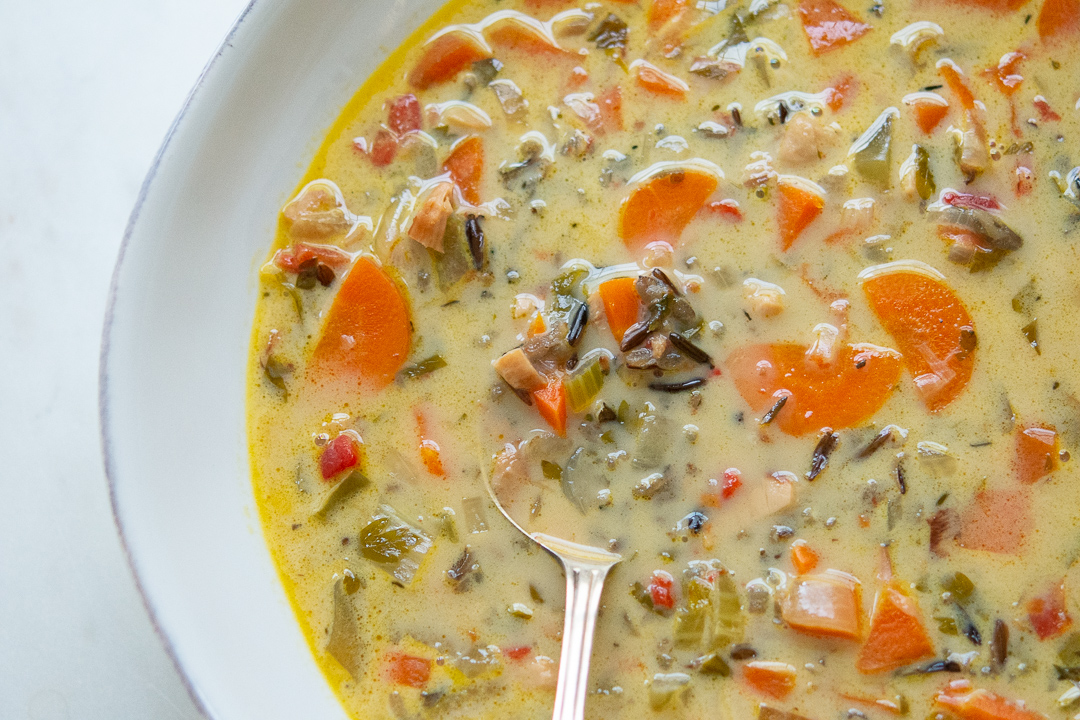 My hubs has been asking for Minnesota Wild Rice Soup after Turkey Day, so I obliged, happily. I came up with a version I am really thrilled with. It's warm and cozy in your tummy (even lightened up!) also quick and easy to make.
Would you look at this!
I thought I'd make a trip to the Union Depot Indoor Farmers Market (an off-shoot of the Saint Paul Farmers Market Downtown) today and made some great discoveries! First and foremost, these mushrooms! Have you ever? I knew they'd be perfect in our soup tonight.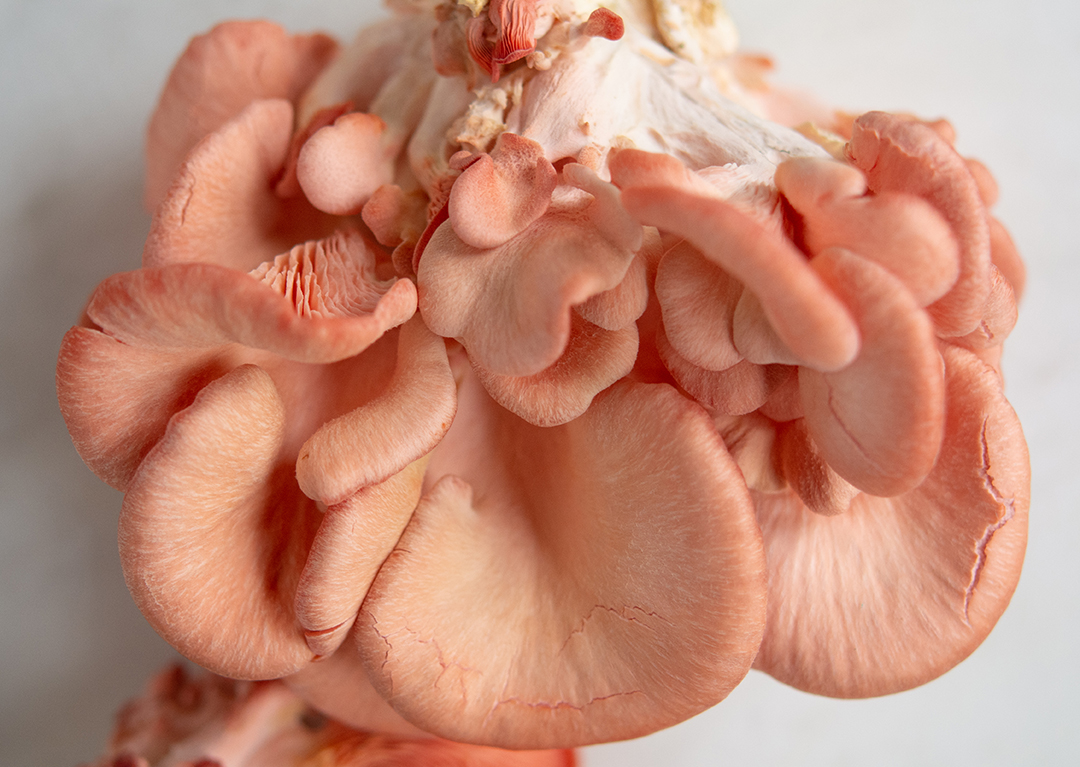 These beauts (Pink Oysters) came from R&R Cultivation. Grown organically and sustainably right in Roseville, MN by Nick and Sierra Robinson (get it?…R&R). Since mushrooms can be easily grown indoors, these guys are available year-round, how great is that! These mushrooms are absolutely pristine, and this variety has a hint of hammy-ness (yes, I made up another word!) flavor to them. And when they sauté, listen to this, they go from this gorgeous pink to a salmon orange from the heat of the pan, very cool. Next time, I'll leave them larger, to show off their beauty. If you can't make it to the Union Depot Market (Wednesdays), R&R Cultivation will be at the indoor market at Market House Collaborative on the weekends this winter.
Oh, wouldn't these 'shrooms would be delicious in my Irish Shepards Pie recipe, or this awesome Artichoke Chicken recipe. Have you tried either of these yet? Give them a shot, super delish! Perfec this time of year.
Back to the soup
Shelagh's version of Wild Rice Soup is a bit lighter than the original version of Minnesota Wild Rice Soup. My version does have a little bit of cream, come on, live a little (or use half & half, ) but no roux (a butter/flour mixture used for thickening soups and sauces). This soup, as written, is gluten-free, and you can make it completely vegetarian by using veg stock in place of turkey/chicken stock.
Why do you need to make this recipe? Like yesterday…
because it's so comforting and delicious
because it's so easy and quick to make
because I said so 🙂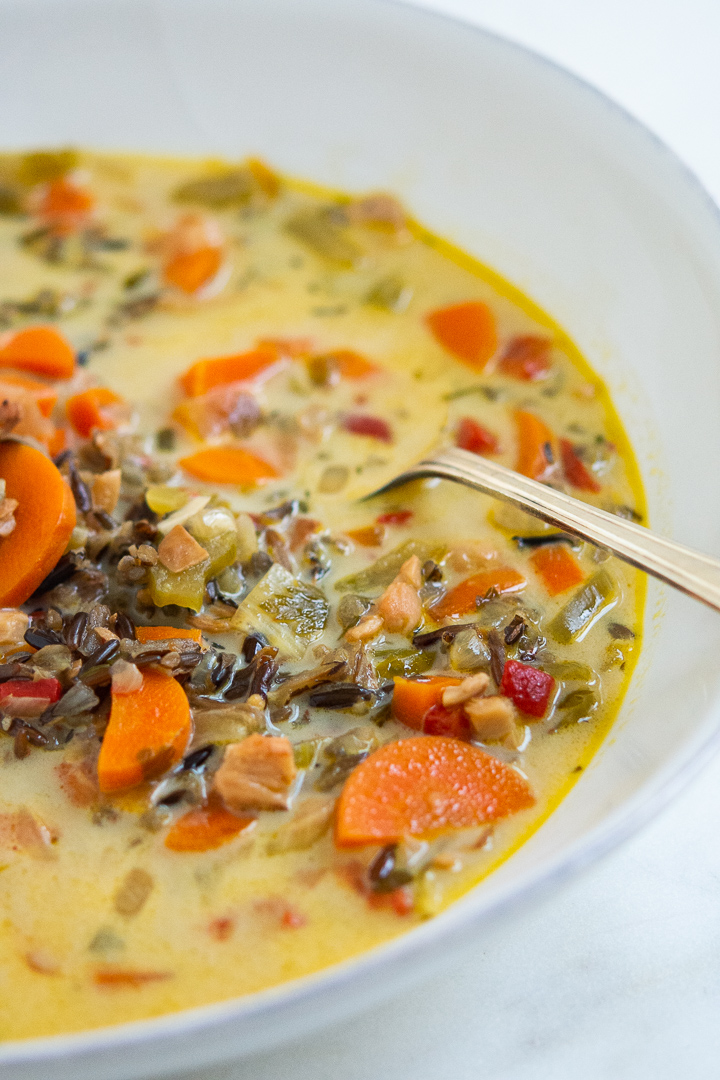 More Union Depot Farmers Market finds
Here are some other terrific 'finds' from the Union Depot Farmers Market today. Natasha's Ginger Garlic Syrup, A+ Organics Kale Microgreens, Krusty'z BBQ Sauce and of course the R&R Cultivation Mushrooms. Trust me, I don't reco products I don't love, and these were are fabulous! I'll work on recipes using these products soon, in the meantime, please support our local growers and producers. They work so hard to keep our food real.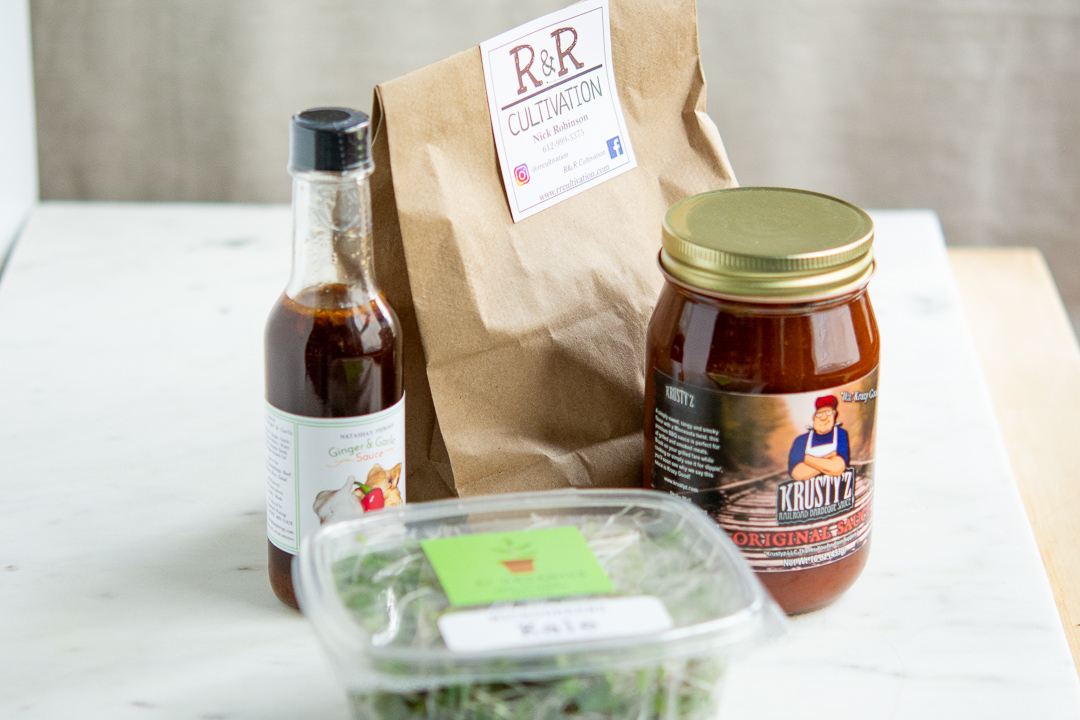 Sláinte
Print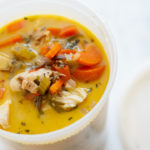 Wild Rice Soup
Author:

Shelagh

Prep Time:

1/2 hour

Cook Time:

1 1/2 hours

Total Time:

2 hours

Yield:

6

–

8

1

x
---
Description
This Wild Rice Soup may be made with or without turkey/chicken and ham. I'm using some leftover Thanksgiving turkey, but chicken is lovely as well.
---
 3 tablespoons butter

4

 oz. mushrooms* chopped

1

 large onion chopped

2

 carrots (about

2 cups

) chopped

2

 celery stalks chopped

2

 cloves garlic chopped

1/2

 teaspoon dry thyme or

1 tablespoon

fresh

1/4

 cup parsley (NO dried parsley please!) chopped

1/2

 cup roasted red pepper (jarred) chopped

1

 cup wild rice Minnesota grown of course!

4

 cups chicken or turkey stock use vegetable stock if you prefer

2

–

3

 cups water** only if using very strong broth, taste it!

3

 cups chicken or turkey cubed into bite-size pieces

1/4

–

1/2

 cup cream half & half is fine
---
Instructions
In a large saucepan, over medium-high heat, melt the butter until it bubbles. Add the mushrooms and saute until they've given up their liquid and are browned nicely. Add onion and a pinch of salt and saute for another 4 or so minutes (when softened). Add carrots, celery, thyme and a generous pinch each of salt and pepper and cook over moderate heat, stirring occasionally, until the vegetables just start to soften, about 10 minutes, then add in the garlic and cook for another minute. Add in roasted red pepper. 
Gradually stir in the stock and stir in any bits on the bottom of the pan. Add the wild rice to the pan. Bring to a boil, then simmer over medium heat, stirring occasionally, until the vegetables are tender, about 30-40 minutes. Add the chicken/turkey and ham (if using) and simmer, stirring occasionally, until the wild rice is tender, 10 to 15 minutes longer. Stir in the cream or half and half and season to taste with salt and pepper. Add the parsley and ladle the soup into bowls and serve.
Make ahead: The chicken soup can be refrigerated for up to 2 days. Reheat gently before serving.
This recipe freezes beautifully.
---
Notes
*These mushrooms are from R&R Cultivation, local, organic and sustainable urban farming. Please grab yourself a few next time you are at Saint Pual Winter Farmers Markets!
**Use water if your stock is very strong (my homemade is ultra-flavorful!). If you are using boxed stock, just taste and gauge the water to your own tastebuds.
Keywords: Gluten free Minnesota Wild Rice Soup, Healthier Minnesota Wild Rice Soup, Mushrooms, shecooksdesign.com, soup, Vegetarian Wild Rice Soup, Wild Rice Soup