If you're going to have cake, may as well be a celebration cake, am I right? I first made a cake very similar to this Carrot Ginger Cake with White Chocolate Cream Cheese Frosting (that's a mouthful!), for a friends wedding, ages ago. It was decorated with day-lilies (yep, they are edible) It was quite lovely. BTW, it was a very casual outdoor wedding in the hills of Wisconsin, really cool too. This time I made candied carrot strips, and rolled them into little roses for the decoration!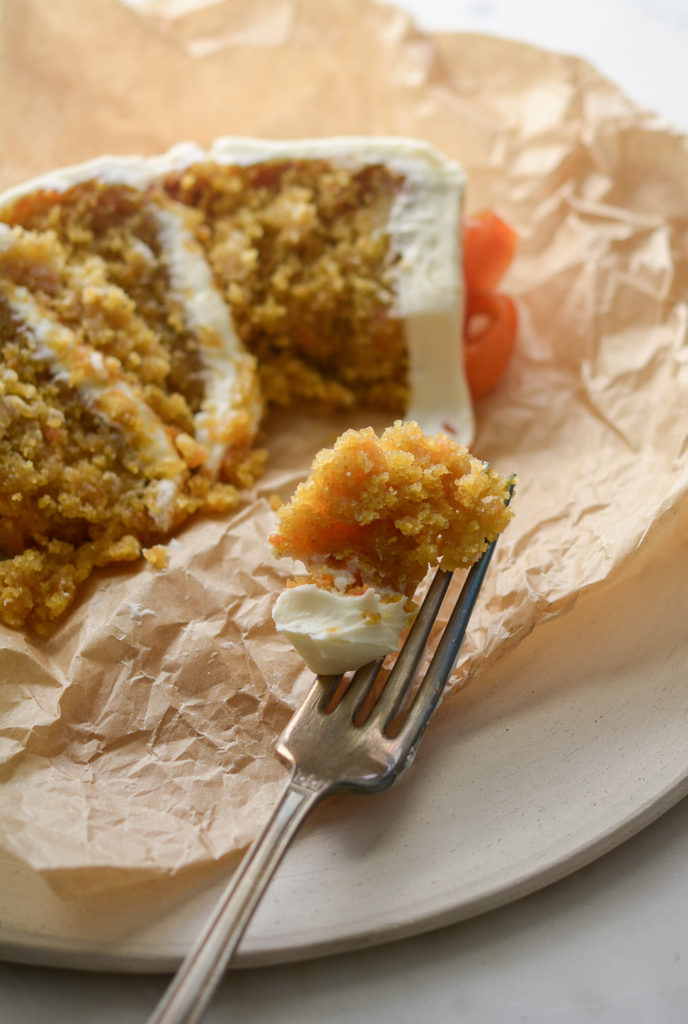 This cake is so easy to make too. Mostly done in the food processor. No food processor? Then get your box grater out and get to work. It's all doable and only a few bowls. This rendition of the cake is a combo of a few recipes I've found (as well as a modified version of the wedding cake I made long ago). You don't even need mixer. And it's got carrots, so you're getting your veg in right? 
White chocolate is all the sweetener needed for the frosting, and that too is made in the food processor. Couldn't be easier. I've tested it on my neighbors, and they all approve you will too. I hope you like ginger, it's really the star of this cake show! Plus crystalized (candied) ginger is a tasty and unexpected garnish.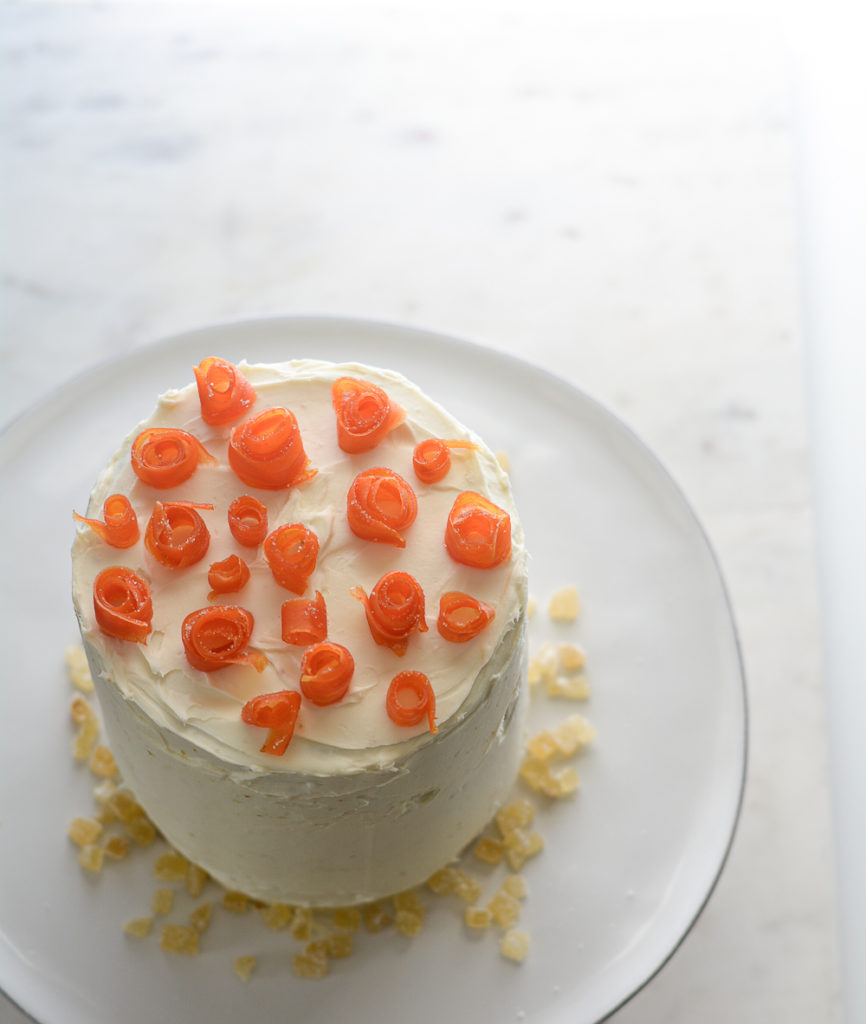 why this cake is so versatile
Bake the cake in a 9 x 13″ pan, versus the fancy 6″ cake tin like I used. You may need to bake it a little longer, keep your eye on it
Truth be told, my 8″ cake pans are only an inch in height, so I had to think fast on a solution, hence the three-layer-6″ tower of a cake. Rest assured my proper 8″ pans with 2″+ sides have been ordered!
Add nuts if you want, I'm a "no nuts" kinda gal (in my baked goods). But you do you. One cup, max for this recipe. And please, for the love of all the cake gods, toast your nuts
If you love coconut in your carrot cake, add it. A half cup outta do ya! May I sugguest you use unsweetened coconut, otherwise cut back a bit on the sugar be a few tablesoons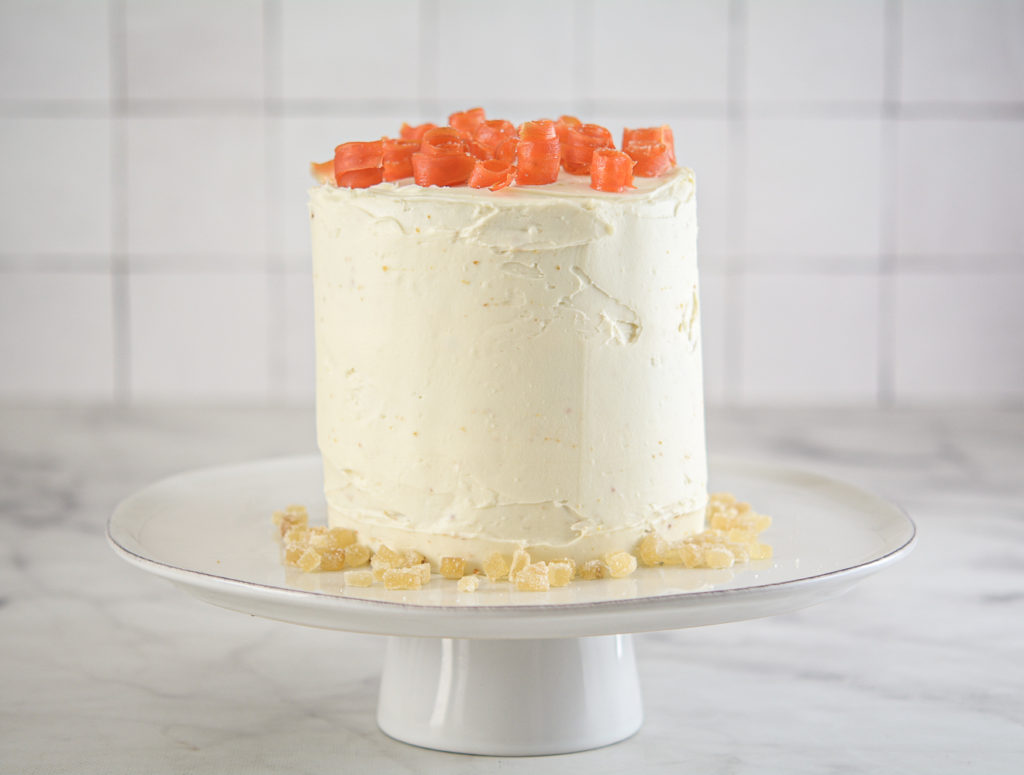 Tips for making this carrot cake
Have all your ingredients at room temperature, they will mix much better
Do NOT over mix this cake, once you add the flour, it will make it tough
Use a digital thermometer, it works as a cake tester, and it the best way to get accurate doneness
The cake can be made a day or two ahead of frosting, just wrap well in plastic wrap and either freeze or refrigerate
Save the liquid from the candies carrots, it's essentially a simple syrup. Add it to a cocktail, or make sorbet, or you could simmer some more fruit or ginger. Here are some other ways to use up simple syrup.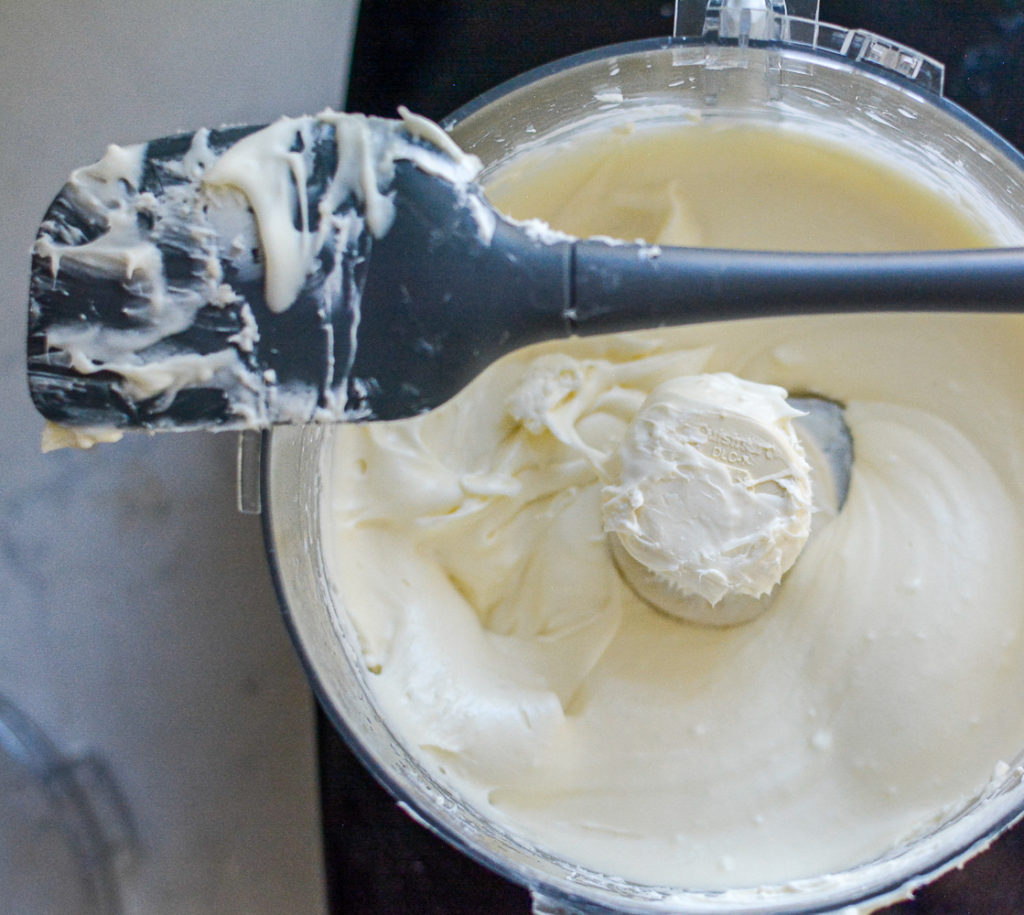 Print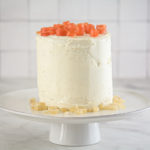 Carrot Ginger Cake with White Chocolate Cream Cheese Frosting
Author:

Shelagh

Prep Time:

30 minutes

Cook Time:

45-50 minutes

Total Time:

1 hour 15 minutes

Yield:

10

-

1

2

1

x

Category:

Dessert

Method:

Baking

Cuisine:

American
---
Description
You can make this cake fancy, or not. Either way, it's delish. You can certainly leave off the decorative sugared carrots, but don't skimp on the ginger!
---
Baking spray for pans

2 tablespoons

(2-3″ depending on width) fresh ginger, peeled and coarsely chopped

1

lb

. (about 7 large) carrots, chunked

1

cup

fresh pineapple, chunked

1

cup

sunflower oil

4

large eggs, room temperature

1/2

cup

buttermilk (115 ml)

1

cup

white sugar (200g)

1

cup

brown sugar (213g)

2 teaspoons

vanilla extract

2 teaspoons

baking powder

1 teaspoon

baking soda

1 teaspoon

kosher salt (affiliate link)

1 teaspoon

ground ginger

1/2 teaspoon

ground nutmeg

2

cups

(260g) unbleached all-purpose flour

1

cup

(130g) whole wheat pastry flour
White Chocolate Cream Cheese Frosting*
Candied carrot roses and crystalized ginger for garnish
---
Instructions
Preheat oven to 350°. Spray two 8×2″ round cake pans with baking spray. Line each with a parchment paper (affiliate link) circle and spray again. Set aside.
Drop the ginger down the shoot into a food processor (affiliate link) with the blade running. Be sure it is very finely ground up. Do the same with the carrots. Add the pineapple and pulse about 10 times. Add the oil, eggs, buttermilk, sugars, vanilla baking powder, baking soda,salt, ground ginger and nutmeg. Mix until well combined. Process until it's a chunky puree and no significant pieces of carrot remain.
Now add the flours and pulse a few times until just combined. Do

not

over mix. Divide between prepared cake pans. Bake for 45-50 minutes. Until a toothpick inserted comes out almost clean. Internal temperature should read 205-210°.
Remove the cakes from the oven and place them on a wire rack to cool for about 20 minutes. Turn the cakes out onto a wire rack to cool completely.
Place one layer on a cake stand or large serving plate, and spread with about 3/4 cup of frosting. Place the second cake layer on top and spread the remaining frosting over the sides of the cake. Transfer to refrigerator and chill for 3 to 4 hours.
Decorate the cake with candied carrot roses as desired. Cut the cake and serve.
White Chocolate Cream Cheese Frosting*
12 oz. (340g) white chocolate, coarsely chopped
12 oz. (340g) cream cheese, room temperature
8 tablespoons (113g) butter, room temperature
1 tablespoon (28g) buttermilk
1/4 teaspoon kosher salt (affiliate link)
1 teaspoon vanilla
Place the white chocolate in a heatproof bowl and melt in the microwave in 30-second bursts, stirring in between, until the chocolate is almost melted, about 1 to 1-1/2 minutes. Stir without further heating until the chocolate is completely melted. Let cool until just slightly.
Place the cream cheese, butter, buttermilk, salt, and vanilla into the bowl of a food processor (affiliate link) and process until smooth and creamy.
Add the melted white chocolate and pulse several times to incorporate. Scrape down the sides of the bowl as needed.
Candied Carrot Roses
2 large peeled carrots
1 cup water
1 cup sugar
Sugar (optional)
Using a vegetable peeler, peel long strips from carrots.
In a small saucepan over medium-high heat, bring the water and sugar to a boil. Add carrot strips, and reduce a simmer. Cook for about 15 minutes. Drain (save the syrup for another use), and place on a piece of parchment paper (affiliate link).
Wrap each carrot strip around your pinky finger to form rose curls. Bake at 225° for 15 minutes. Sprinkle with extra sugar for some sparkle, farkle! Place on your cake and bask in it's glorious carrot beauty!
---
Keywords: carrot cake with ginger, white chocolate cream cheese frosting, no nut carrot cake, no coconut cheesecake, food processor carrot cake, easy carrot cake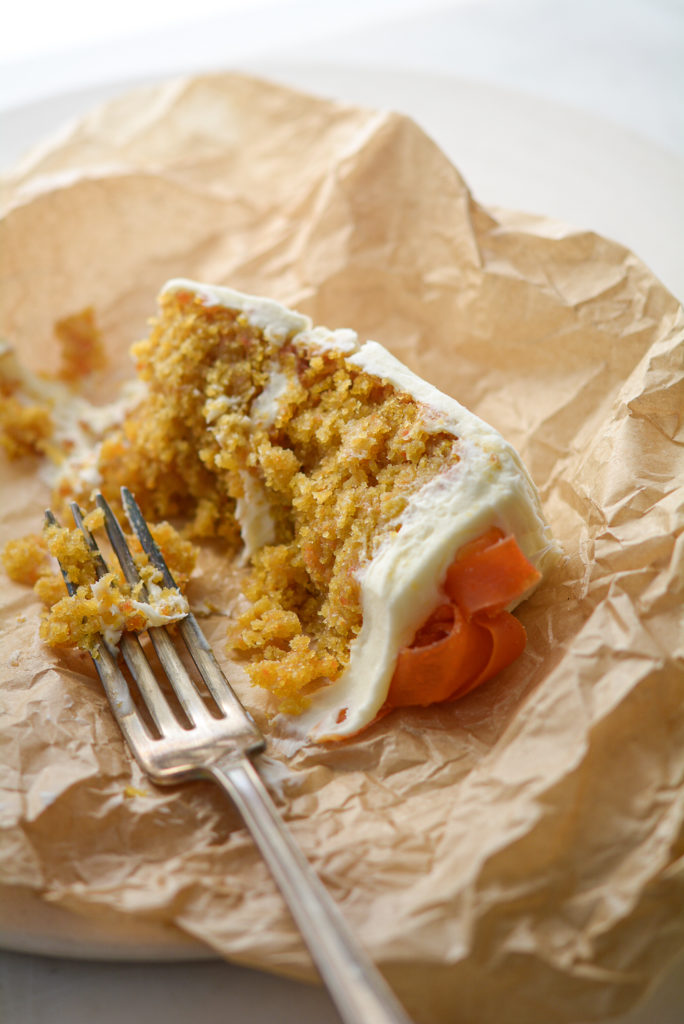 Some other delicious recipes to try this Easter