This post is all about one of the tastiest, most decadent of all desserts, Sticky Toffee Pudding with Dates. And you can see how easy it is to make if you watch me make it today (Tuesday) on Twin Cities LIVE with Elizabeth and Ben.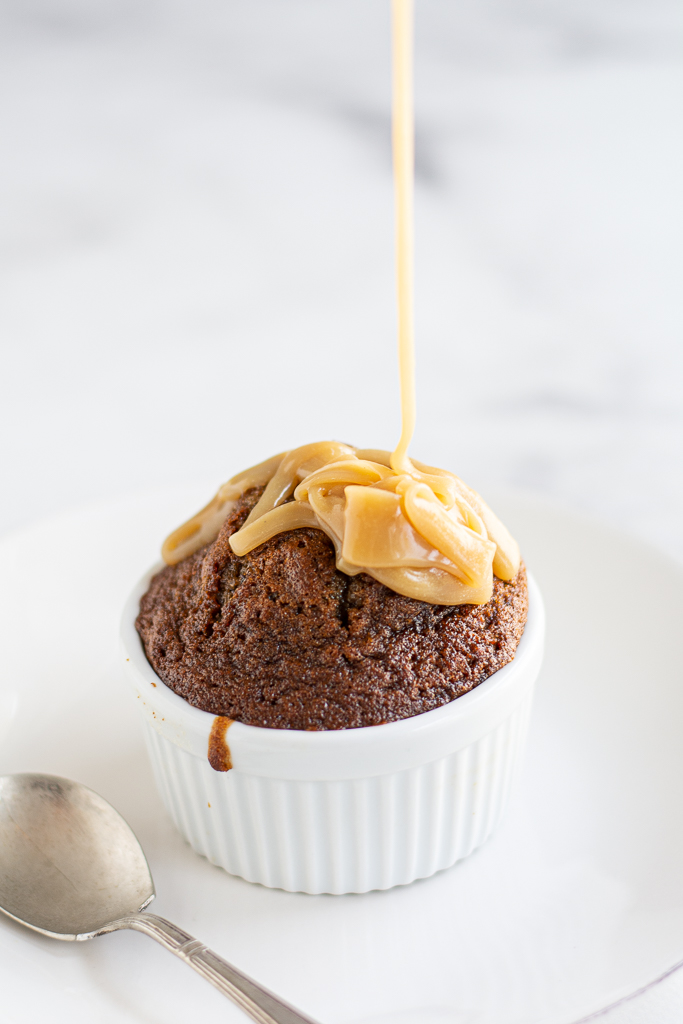 What's for pud? Meaning, what's for dessert? 'Pud' is sort of a generic term for dessert. But there's nothing generic about this Sticky Toffee Pudding with Dates.
So what exactly is a 'pudding'? 
A pudding is often a reference to a sweet dessert. But a very old-style traditional 'pudding' would have been steamed on the stove (or hob as they call it)
My version is not quite as dense as many heavier puddings but more cake-like. But it's still decadent and delicious!
Open modal
Tip of the day!
Use whole, pitted dates versus already chopped, if you can. They break down easily when simmered, and the baking soda helps that too.
Plus, they stay fresher longer.
I keep mine in a jar with a tight lid, they last for ages.
Here are a few tips when baking this sticky toffee pudding with dates 
Having all the ingredients to room temperature helps them blend more efficiently
To quickly bring eggs to room temperature, place them in a small bowl and cover them with hot water for about 5 minutes. Works every time.
Mixing the flour mixture with dates first will prevent the hot date mixture from scrambling the eggs
Be sure the sugar is completely melted to prevent a grainy sauce
You can purchase a nice caramel sauce, but this one is super easy to make. Give it a try.
Print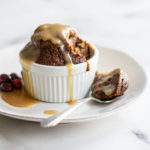 Sticky Toffee Pudding with Dates
Author:

Shelagh

Prep Time:

20 minutes

Cook Time:

25 minutes

Total Time:

45-50 mintues

Yield:

6

-8

1

x

Category:

Dessert

Method:

Baking

Cuisine:

UK
---
Description
According to my research, this is not an Irish dish 😉, but hails from the UK. Quite possibly discovered by some Canadians. So who knows. I just know, my version with a little espresso to amp up the date flavor is the best. Just sayin'.
---
Pudding
Baking spray for ramekins

1 1/2

cups

(6 oz.) dates, pitted and chopped

1 teaspoon

espresso powder

3/4

cup

water

1 teaspoon

baking soda

1 1/2

cups

(186g) all-purpose flour (well whisked)

1 teaspoon

baking powder

3/4 teaspoon

kosher salt (affiliate link)

1/4

cup

(1/2 stick) butter, room temperature

1

cup

sugar

2 teaspoons

vanilla extract

2

large eggs, room temperature
Sauce
1

cup

dark

brown sugar, packed

1/2

cup

heavy cream

1/4

cup

(1/2 stick) butter

1 tablespoon

Irish Whiskey (optional)

1 teaspoon

vanilla extract
A sprinkling of smoked salt (I love Maldon or, if you are lucky enough to have some Achill Island Smoked Sea Salt, yum)
Vanilla ice cream to accompany and would be traditional. (aka guild the lily)
---
Instructions
For the pudding
Preheat oven to 350° F. Spray 6-8 (1/2 cup) ramekins (or use a muffin tin, or you can make one large 'pudding' in a square 8×8 cake pan, baking time will increase quite a bit*) with baking spray. Place the ramekins on a rimmed baking sheet (affiliate link) lined with parchment to catch any spills.
Bring dates, espresso powder, and water to a boil in a heavy-bottomed saucepan. Remove from heat; stir in baking soda (mixture will foam up a bit. Soda helps to soften the dates). Set aside; let it cool a bit. Use a fork to mash the softened dates.
In a large bowl, whisk flour, baking powder, and salt.
In a medium bowl, using an electric mixer on medium-high speed, beat butter, sugar, and vanilla for about 3 minutes (it's alright if it's a bit grainy). Add one egg; beat to blend thoroughly about 45 seconds. Repeat with the remaining egg.
Add the date mixture to the bowl with flour and other dry ingredients. Mix on low speed until almost combined. Add the butter mixture** to the bowl and mix until just combined. Do not over-beat the batter.
Pour batter into ramekins, about 2/3 of the way full (use more ramekins or a small pan if you have extra batter, you sure don't want to waste it ).
Bake until a toothpick inserted into the center of the cakes comes out almost clean, 16-20 minutes. If using a larger cake pan, baking time may be closer to 45 minutes. Better to be a little under-done than overdone. Let cool in the ramekins on a wire rack for 30 minutes or so. Turn the ramekins out onto individual plates, and with a wooden spoon, poke some holes in the cakes. Pour the warm sauce over the individual servings, and sprinkle on some crunchy salt (I used Achille Island Smoked Sea Salt). Top with a scoop of ice cream, or drizzle with a few tablespoons of softly whipped cream, also optional but both terribly delicious.
For the sauce
Bring

dark

brown sugar, heavy cream, and butter to a boil in a small heavy saucepan over medium heat, stirring constantly. Reduce to simmer for 3 minutes or until sugar is melted. Remove from heat; stir in whiskey, if using, and vanilla.
The sauce may be made 4-hours ahead. Let stand at room temperature. Rewarm slightly before using. Top with vanilla ice cream or lightly whipped cream.
Tip: you can eat these puds right out of the ramekin, just be sure there's enough space for the sauce! Add an additional sprinkle of smoked salt before serving for a nice toffee punch! Makes about 1 1/2 cups of sauce. Yum.
Serves 6-8
---
---
Notes
*if making this Sticky Toffee Pudding with Dates in a 9×9″ cake, the time to bake will be about 45 minutes, but check at about 40. It should spring back when you touch the top.
**Why add the date mixture to the flour mixture first? Because it's super hot, it will scramble the eggs. Tip of the day!
Keywords: Sticky Toffee Pudding with Dates, Easy Sticky Toffee Pudding, Traditional British Desserts
Some other delish recipes you may want to try this weekend